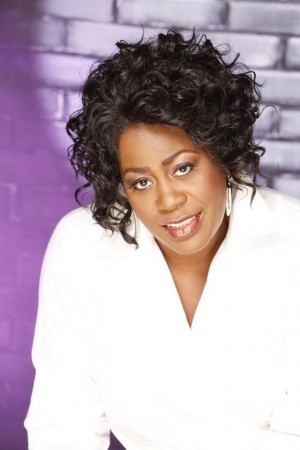 Chandra Currelley-Young took time out of her busy schedule to give Khalif Townes the honor of interviewing her for uGospel.com. Currently, Chandra is starring in Tyler Perry's latest stage play, "Madea Gets a Job". In the interview they discuss the play and what it's like to star alongside Tyler Perry. Chandra, who's been in the entertainment industry for over 20 years, also gives advice to up-and-coming performers and talks about her other current and future projects. Click play below to hear this informative, entertaining interview.
ABOUT CHANDRA:
Chandra Currelley-Young is an American actress, known for her extensive work with director and writer Tyler Perry. She also has appeared in numerous other stage plays. Back in 1992, Chandra left "The S.O.S. Band" to pursue her career in acting and theater. Since that time, she has blazed a fiery trail in the world of theater. Because of her excellent theatrical abilities, Chandra was selected by Debbie Allen to be the featured soloist in her production entitled, "Soul Possessed", which debuted at the Alliance Theater in Atlanta, Georgia.
This was an extremely rhythmic production that consisted of interpretive dance and song. The show featured the likes of Patti Labelle, Desmond Richardson (FOSSE), Natalie Belcon (RENT), Carmen de Lavallade (Alvin Ailey), Miguel Angel, Sharon Brown, Jason Samuels-Smith (Bring Da Noise), and many other artists.
Tom Jones then produced a show, through his production company, Jomandi, specifically for Chandra entitled "SLAM", which debuted at Atlanta's Jomandi Theatre and was later featured at the Studio Theatre in Washington, D.C. It was because of her incredible performance in D.C. that Chandra was nominated for a Helen Hayes award in 2000 for Outstanding Lead Actress, Resident Musical for the character "Autumn".
Her breakout role came when she starred in the David Petrarca's hit production, "Dinah Was", the story of the legendary Dinah Washington, a great songstress from the 1950s era. Chandra was picked directly by David Petrarca because of her awesome ability to embody the role of Dinah Washington. This role was a perfect fit for her from the music, the character of Dinah Washington, and the artistic expression that was allowed.
There is, unforgettably, Chandra as Katisha, in "Hot Mikado", where she plays the imposing older woman enamored of Nanki-Poo, who survives a bout of insults to almost steal the show with her thundering, bluesy, gospel numbers and torch song. She received rave reviews for her most impressive presence and strongest voice in a cast loaded with great singers.
She established her acting career by appearing in Tyler Perry productions such as the stage play, "Madea's Big Happy Family" as Shirley, and in the movie as Sister Laura among many other of his production's. She can also be seen in the upcoming TV show "For Better or Worse".