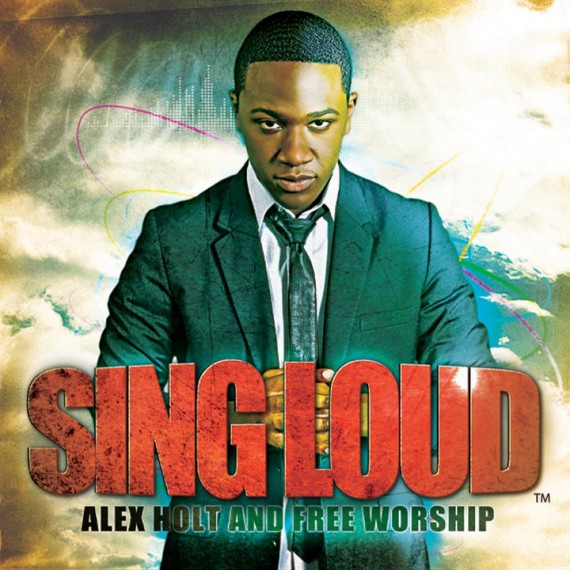 Alex Holt, an ordained minister, musician, producer, songwriter, vocalist and PK (Preacher's Kid) blessed uGospel.com with an exclusive interview to discuss his group's new album SING LOUD.
Born in the suburbs of Virginia, Alex Holt was destined to be a Gospel Music singer. Although he had dreams of becoming an architect, God had other plans for this distinguished young gentlemen. Without even knowing it, Holt was being shaped to be the musician that he is today from an early age. It wasn't long before he realized his calling and began to groom and ignite the gifts within.
After the molding process, Alex Holt connected with other young people who shared the same tenacity and fire for God.  These young people united to form Alex Holt and Free Worship. The group consist of: Alex Holt, Tamarra Wilkes, Wendy Levie, Lauren Green, Tierra Wilkes, Phillip "PJ" Green, Desmond Harrison, Zachary Brunson (Keys), A.J. Knight (Bass), Chris Jernigan (MD AND Drums/Percussion).
uGospel.com:  Where does your passion for Christian music come from?
My passion comes from my relationship with Christ. I love music that speaks to the creator, of his goodness and his grace. This makes the music I listen to as a well as the music I write follow that same path. Growing up in a house where every Saturday morning during family clean up time you would hear The Winans, Commissioned, Hezikiah Walker, and so many other gospel greats kind of sticks to your soul.
uGospel.com:  How long have you been singing?
Since I was young in the church children's choir, but I got serious at age 17 when I started leading worship at my Father's church.
uGospel.com:  Which music artists inspire you?
At this present moment my favorite artist is Deitrick Haddon, he is really cutting edge with his message and presentation. From movies to music videos he really gives new artists something to aspire to. Actually I remember when I was 15 I would watch his first live recording Chain Breaker every day. The recording was on a Video Tape not a DVD; I wore that thing out lol!
uGospel.com:  How did you hook up with industry heavyweights such as Tye Tribbett, Canton Jones, and Kierra Sheard in the past?
The grace of God and somebody giving us a chance. God has really blessed us to meet and open for some amazing people, and every time somehow a relationship is formed. I'm so thankful for artist who will actually talk to you and give advice for how to make it. I really appreciate these three, especially Tye Tribbett. He really worked in the love of God, we opened up for him before he preached and the spirit of God moved so heavy when we sung Reflection a single from our album. Tye took me under his wing for a season, brought me to the studio in Philly while he recorded his new album Fresh. It was an amazing experience I learned so much and I'm really grateful for such a humble artist in this industry.
uGospel.com:  How did Alex Holt and Free Worship form as a group? And how did you guys begin making music?
Actually it was by accident that we formed. I was a freshman at Hampton University, age 20 and God put on my heart to do a youth conference for the youth at my church. So I put together a youth praise team which consisted of friends, I had my first two songs written so with nervousness I presented it to them. It went over really well; over 500 young people came to my first real conference. They were touched by the songs that we ministered and from that point I knew this is what I wanted to do. I asked my friends if they wanted to join with me in this calling and the rest is history.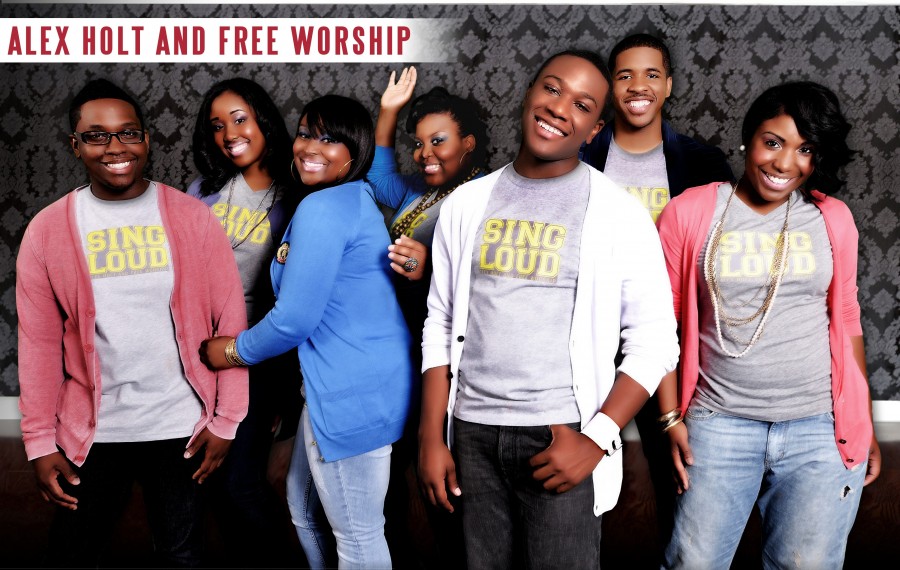 uGospel.com:  Is it hard to focus on work in the studio, since you are working with friends?
It was a process that we adjusted to, understanding each other's roles. It took some time, but we are now able to work efficiently, all while still having fun. I appreciate my friends that now respect me as their leader, it takes strong friends to that and I'm thankful.
uGospel.com:  Has it always been a dream of yours to form a Christian music group?
No not at all, I used to want to be an architect. I was in music because my Dad is a Pastor and we all know when you're a PK (preachers kid) you do everything at the church. So he said God told him to put me on the keyboard, knowing I didn't know how to play a lick he made me stay. I would play for people using one finger following the tune as they sung, and I was embarrassed lol. I kept practicing and my mother would pay for lessons from a family friend that is a musician. God began to work on me and I began to play for real, he then made me minister of music at 17 and now here we are 7 years later and I have my own Group. I'm thankful for my Dad listening to the voice of the Lord.
uGospel.com:  How is Alex Holt and Free Worship different from other Christian music groups?
The thing that I know makes us really different is our unique sound and anointing, I really believe that it is the thing that changes the hearts. People will come to me after concerts and tell of how when we were ministering they would just cry because they felt the presence of God when we lifted our voices. Words like that I don't take for granted because it's by Gods grace that he has given us uniqueness through a genuine relationship with him. Our age also speaks volumes, our group ranges from 18-25 this generation of young adults named Free Worship can speak to the generation that is set to usher in the second coming of Jesus Christ. We have to spread the gospel across this world and we're fit to do it.
uGospel.com:  What is the meaning behind the title of your album "Sing Loud"?
The album is called SING LOUD, I love the title because when I think of something that is loud it demands attention. We are pushing all of the attention to Jesus with this album and that will always be my desire. SING LOUD is a compilation of songs that God allowed me to pen through successes, failures, hurt, and a desire to grow closer to him. I wrote most of the songs on this album with the intentions of them to be sung by anyone. God blessed me with a group of amazing singers and musicians that were able to help take each song to the next level with harmonies, riffs, and chords that really amazed me. This record is for any and everybody, if you're a seasoned saint, a new Christian, or even on the edge deciding if you want to give your whole life. It will touch your heart and make you want to give all you have to the one who created you, which will make want to tell the world of his love by SINGing LOUD!
uGospel.com:  What can fans expect to hear on "Sing Loud"?
They can expect to hear something that will make them sing, dance, worship, and even feel like authentic church. This album is full of anthems from the first song to the last, that will make you not want to press skip. I can really say that there are no skip songs on this album but you will enjoy this entire record. Get it and see for yourself!
uGospel.com:  Do you have a favorite song on the album?
Yes my favorite song right now is track #10, it's a song we did with Stellar Award Nominee Travis Greene called Yeah x3. It has a beach boys meets earth, wind, and fire type of feel. It talks about everything the Lord is to us, and when you don't have any words to describe your excitement we just say YEAH! YEAH! YEAH!
uGospel.com:  Many artists your age would choose to make Contemporary Gospel music. What made you decide to produce a praise/worship sound?
It's my love; praise/worship is vertical from you directly to God. It's like praying with music added, and when you give people something to say to God that will eventually build their relationship. After the relationship is built they will begin to add their own words and God loves that. I guess I just love giving people more things to say to such a great and powerful God.
uGospel.com:  Do you have a target fan base for your music?
We have been called to youth and young adults to age 30, even though we speak to even older people, that demographic is always who we strive to reach.
uGospel.com:  Tell us about Renewal, the monthly event series that you have.
It's a youth and young adult experience we have launched in order to offer our demographic more than just music. We experience God in the most unique ways at these services. We have relevant teaching by amazing ministers, special guest musical artist, and area youth groups come with us to experience the unique presence of God where we are all "Renewed". The series is being held every 2nd Sunday at 1906 Campostella rd, Chesapeake, VA 23324 at 6pm. Come out to the next one you won't regret it!
uGospel.com:  What's next for Alex Holt and Free Worship?
It will have to be our album release concert/ DVD recording on August 20, 2011. We are really excited about this one, it will be held in our home town at Freedom Fellowship 836 Regency Rd, VA Beach, VA. We will be doing songs from the album with special musical guest to join us, it's going to be a once in a lifetime event that you have to be at. You can find ticket info and more details on our website.
uGospel.com:  How can fans stay in contact with you?
They can find all of our sites connected to our website www.alexholtandfreeworship.com, there you can get all the up to date info on what's going on with us, where we are, how to book us, and new music.
Interview by Michael Jones for uGospel.com