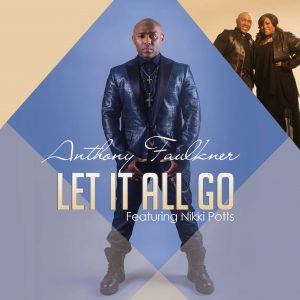 International Gospel Artist, Anthony Faulkner is excited about the release of his second radio single, "Let It All Go", featuring Acclaimed Gospel Artist, Nikki Potts.
Anthony's new radio single, "Let It All Go" is a timely and inspiring ballad speaking directly to the hearts of those in need of God pulling them through challenging times.  As a gifted singer and encourager, Anthony naturally opens up through song encouraging listeners to let go of all the hurt and pain and turn it all over to God.
"Let It All Go" is penned by Faulkner and it's lyrics and phenomenally produced musical arrangement stand out from beginning to end.  Produced by, Anthony Faulkner and Co-Produced by, William B. Smith II, the song's lyrics are: "Let It All Go, all the pain, time to let it go, Let It Go, all the hurt. Now that you know what you must do, let it all go, God will pull you through." 
Gospel Singer, Nikki Potts, a member of the Stellar Award Winner and Grammy Nominee, Kurt Carr and the Kurt Carr Singers, joined Anthony on "Let It All Go", adding her anointed and powerful vocals throughout the song.
Faulkner expressed his excitement about sharing this message with listeners:  "I am very grateful for this opportunity to share with the world regardless of the circumstances, if we "LET IT ALL GO" and trust and believe, our faith will let God know that, I TRUST YOU!"
Nikki Potts also shared her heart on working with Anthony Faulkner and the importance of the message in "Let It All Go":
"Super Excited about this amazing experience that is way overdue. This song expresses the liberty God has given us. I can't WAIT for the world to hear it. So elated to be apart of such a wonderful project. All of the hurt and pain, let it all go!"
Listen to "Let It All Go" Today!