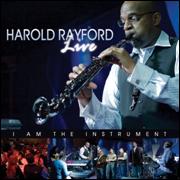 "I am to God what my saxophone is to me, I'm just an instrument."- Harold Rayford
An instrument is defined as one used by another to accomplish a purpose.
As instruments, God uses His people through different avenues to deliver his message for His Glory!
I am the Instrument is available In Stores and Online-TUESDAY- August 3, 2010 and every song has its own unique message and sound, including the songs "With Love", "Dove" and "Every Night My Father Prays".
The radio single, "Never Would've Made It", is a powerful cover song that is a true prayer from Harold's heart, declaring it has been only God using him as an Instrument to accomplish His purpose.
I Am the Instrument is Harold Rayford's first "Live" project on Tyscot recorded at the Jazz Kitchen in Indianapolis
In his candid EPK video, which is available now on www.youtube.com, the gospel jazz veteran opens up about private moments including family, personal struggles and his flourishing music career.
To see Harold's candid moments plus never before seen footage:
http://www.youtube.com/watch?v=NsqDV8dbyP4 – I Am The Instrument EPK
I am the Instrument will be Rayford's fifth project on Tyscot Records.  The project, is already receiving attention outside of the gospel world.  Most recently, www.smoothjazz.com added his new song "Every Night My Father Prays" to its web play list.
For Publicity and More Information Please Contact: Tracy Y. Williamson /TRE7, Inc./[email protected] and visit www.tyscot.com