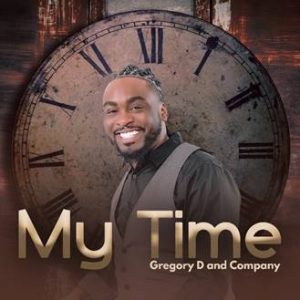 Gospel Artist Gregory D and Company have been inspiring audiences for years with their soul-shaking songs. The Michigan-based ensemble has been singing God's praises since 2012, ministering behind Gospel artists such as Bryan Poppin and sharing the stage with Vanessa Bell Armstrong, Lee Williams, Wess Morgan, Alexis Spight, Clifton Ross, III and Willie Moore, Jr. Now the dynamic group is not only wowing audiences but radio as well with their brand new single entitled, "My Time".  A collaborative effort between the artist's company, Gregory D Productions, LLC, and Indie Blu Music, "My Time", an up-tempo, praise and worship song, will officially release to digital and streaming platforms on June 5, 2020.
The six-time Rhythm of Gospel Award Nominees and two-time Voices of Gospel Music Award Nominees have been soaring up the Billboard Top Gospel Songs Chart, recently breaking into the Top 50. The new track is much-needed, musical encouragement for those in the process of waiting on their change to come. A spirited song, "My Time" reminds the believer to hold on to the promises of God while merging the exciting sounds of Gospel and the power of praise and worship. Penned and vocal-produced by the artist himself with Larry Trice, III, sitting in the producer's chair, the song showcases the exceptional talents of the dynamic leader and his group.
In sharing his thoughts about "My Time", Gregory D says, "I wrote this song at a time when I was discouraged, and I felt there was no room for me in this industry. Many of us have been waiting and believing God for something. My assignment is to encourage you and let you know that even with things the way they are in this world, it's STILL your time."
An ordained elder, Gregory D, has been surrounded by Gospel music his entire life. Influenced by parents who were gifted in music, he honed his skills and as a vocalist, starting at the age of five, and as an instrumentalist, learning the keyboard, drums, organ and bass. By the age of 17, he began writing songs. In his role as church choir director, he started penning songs for his choir. But it wasn't until the passing of his mother that his music ministry truly began.
"When my mother died on Mother's Day in 2012, I believe my ministry was birthed at that moment," recalls Gregory. "At the time of her death, I was a part of a Gospel rap group named 'L.I.V. Music Group' where I was a lyricist, hook/chorus writer, singer and leader. The anointing was on us and each time we ministered God was there." Even with their success, he knew the Lord had something else for him. That was the moment that Gregory D and Company was born.
Since the ensemble's first release in 2014, a song entitled "He's Good", other releases followed including tracks like "More Than a Conqueror" in 2016, "I Am a Praiser" in 2017 and their first EP entitled "The Worship Trio", also in 2017. Their next full project is slated to drop at the end of 2020. They have been celebrated with nominations including Rhythm of Gospel Awards for Contemporary CD of the Year, Praise and Worship CD of the Year and Rhythm of Gospel CD of the Year and a nomination for a Kingdom Image Award for Best Group Performance. In addition, Gregory D and Company have been nominated for Voices of Gospel Music Award Nominations for VOGMA Artist of the Year and Contemporary Artist of the Year. They have also made an appearance on The Dorinda Show with the legendary Clark Sister, Dorinda Clark-Cole, and on Rejoice Musical Soulfood with Cedric Bailey.