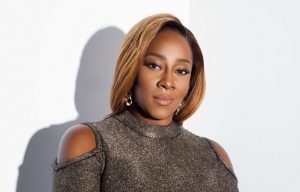 GRAMMY® and Stellar Award-winning artist Le'Andria continues to deliver an inspiring voice to warm the spirit this season, as the chart-topping singer gives thanks to fans and peers, sharing encouragement and several honors for 2018.  Following praise for Le'Andria's fresh sound on her uplifting album Bigger Than Me, her unforgettable live performances, and her #1 hit Gospel single "Better Days," the acclaimed vocal powerhouse has garnered two GRAMMY® Award nominations for 2018, nominated in the categories of Best Gospel Album for Bigger Than Me and Best Gospel Performance/Song for "Better Days."
Final-round voting is open now among eligible members for the upcoming 60th Annual GRAMMY® Awards.  Voting is also open now in the final ballot round of the 33rd Annual Stellar Awards for 2018.  Open publicly to fans and members online at www.thestellarawards.com, Le'Andria is on the ballot in the categories of Artist of the Year, Albertina Walker Female Vocalist of the Year, CD of the Year for her album Bigger Than Me, Traditional Female Vocalist of the Year, and Recorded Music Packaging of the Year. 
Featuring the funky Gospel single "Bigger Than Me," the Urban AC single "All I Got," and more, Le'Andria's album Bigger Than Me continues to be a sweeping showcase of her versatile gifts to carry any sound, from Gospel and R&B to Jazz, Country and Rock-inspired melodies, moving listeners with messages of love and hope.  Celebrating love, music, and special times with family and fans during this festive season, a special sweepstakes promotion with Mid-South Ford Dealers and highlighting Le'Andria's "All I Got" is still open this month until December 31st, 2017 for fans in the region (Further details here: https://fordmusic.com/leandria-johnson-2017-explorer-mid-south/).