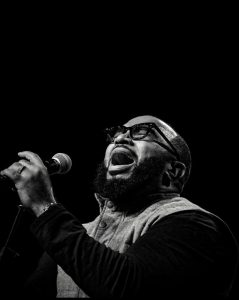 Grammy ® Award nominated songwriter and singer, Jason Clayborn, will perform Irving Berlin's 1918 patriotic anthem,  "God Bless America," at the inaugural swearing-in ceremony of Kentucky Governor-Elect, Andy Beshear, at the State Capitol in Frankfort, KY on December 10, 2019 in the 2 PM EST hour.  The historic event will broadcast live on https://www.ket.org
Beshear, a Democrat, won a high-profile, polarizing election to unseat incumbent Republican Governor, Matt Bevin,  by 5,086 votes in a contest that saw over 1.4 million votes cast.
Clayborn is a Louisville, KY native who has been performing since his youth. He started playing drums in church conventions as a child and hit the national stage as a member of the Christian Hip-Hop group, The Righteous Riders, in 2002. After the group disbanded, he branched out as a successful gospel songwriter for leading gospel music hitmakers such as Hezekiah Walker, VaShawn Mitchell, Wess Morgan, Lisa Knowles-Smith and Ricky Dillard.
Clayborn's composition, "Better," gave Hezekiah Walker an 18-week run at No. 1 on the Billboard Gospel Airplay chart in 2016. Aside from earning  a Dove Award; the tune was also nominated for Billboard Music, Soul Train and Grammy ® Awards.  It was also one of the ten most played gospel songs of 2016 according to Broadcast Music, Inc. (BMI). Over the years, Clayborn has released three gospel projects under his name. In 2016, he formed the youthful choir, Jason Clayborn & The Atmosphere Changers. Their debut radio single, "Praise Belongs to You," currently sits in the Top 40 on the Mediabase and Nielsen BDS Gospel Airplay rankings.