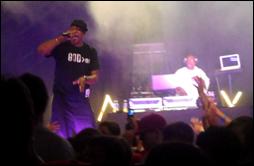 Explosive, Powerful, Mind-blowing, are just a few of the words that can be used to describe a whirlwind of energy with more than 1,000 youth and teens who are coming out to experience the ministry of Sean Slaughter.  Everywhere he performs, there is powerful experience in worshipping God.
This is what tons of young people and young adults took part in recently at the first annual GenIgnite event- hosted by the Manna Church in Fayetteville, NC.
The student conference was a weekend full of creative activities, powerful dance and drama, dynamic speakers, incredible worship, and fellowship. The participants ranged in age from 13 to 19 and were from all cultures and ethnicities.
In the middle of it all was talented Christian Hip Hop recording artist Sean Slaughter, a facilitator and guest of the major event.
Slaughter is a longtime staple in the industry for providing unabashed Holy Hip Hop – even before the medium became widely accepted into the Christian arena. With several best selling albums under his belt, he embarks upon a new world tour with his soon to be released new album- the Prototype. This album is collaboration with hard-hitting new producers, and a host of guest Christian artists such as Canton Jones and CMO, who add a uniquely special touch to the witty rhymes Slaughter has to offer.
At GenIgnite, Slaughter offered a moving sneak peek into the new Prototype Album as he ministered at the conference. The Spiritual passion of the intense music along with the techno-lights, smoke and drama was just overwhelming. Many youth who attended say it was a weekend to remember.
Slaughter, having years of experience in spreading the gospel through music and public speaking in the U.S. and many countries beyond – notes that this conference was not only full of awesome talented musicians and speakers, but used music and multimedia effects to take teens deep into the Word of God.
"I really felt the true Spirit of God moving throughout the building. It was amazing. You could sense that these youth were hungry for change, for more. I was grateful and humbled to be a part of that experience," says Slaughter.
Slaughter continues to tour and promote his new album, however he never loses sight of his purpose- ministry and reaching youth. To find out more info on the Prototype Tour, or to host Sean Slaughter at your conference or event – contact his management at 1-877-528-2078 or visit