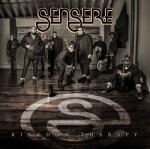 Gospel's premier soul troupe, Sensere, is set to unveil their long awaited new album, KINGDOM THERAPY, available May 12th. Sailing in as the follow-up to their critically acclaimed first release, SOUL OF FUTURE WORSHIP VOLUME 1 (which spawned the hit "Got Jesus"), the Miami-based group's newest offering is already earning thumbs up from critics weeks before its spring release date.
Kicked off by the ever-delectable groove "Love," available now at iTunes, the song shines as yet another showcase of the group's signature neo-soul/R&B-fused stylings likened to that of The Temptations, Earth Wind & Fire, and Motown's "hey day" showmen.
But, while tipping their musical hats to the sounds of yesteryear, lyrically, the themes that fill the album couldn't be any more current. Evidence of this can be found aboard standout cuts like the guitar-driven, soul stirring "Faith Equals Happiness," the funky, horn-assisted "Radical Praise," and the spirited Jackson Southernaires remake "Don't Look Down on a Man." Collectively offering lines of hope, love, and faith in God in times of despair, the album's encouraging messages will soothe, shift, and sustain listeners wherever their present walk with God leads them.
Listen to "Radical Praise" Here:
KINGDOM THERAPY beams as yet another noteworthy addition to the group's already decorated musical resume, a feat assisted by the project's craftsmen. Produced by James "Jdubb" Wright, all songs on the release were written by group members Terrell "T2" Terry, Dwayne Charlton, Brian Williams, and Wright. Their inclusion not only brought their gripping testimonies to life via the songs, but also helped to make it an even more personal venture to connect with listeners.
Fans looking to get more of Sensere should keep their ears and eyes open for the announcement of the group's forthcoming Stateside summer tour. The trek will also include pit stops at radio in select markets. Their new album, KINGDOM THERAPY, will be available May 12th.