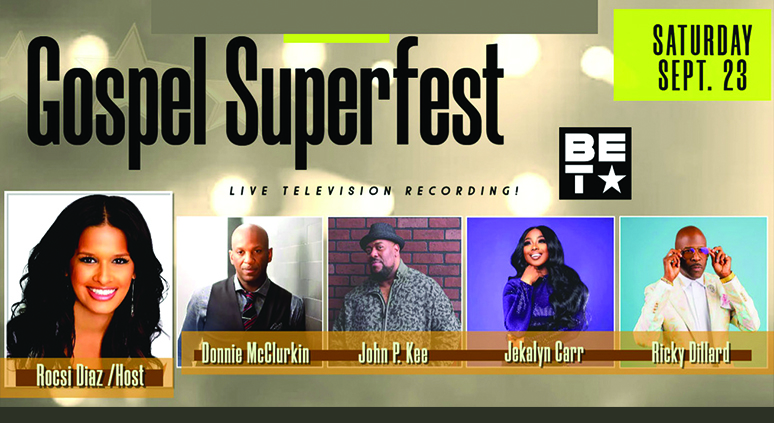 Gospel Superfest Television will honor the city of Jacksonville with a special night of healing.  The live television taping for BET, set for Saturday September 23
rd
, will offer Gospel Superfest' unique brand of television entertainment with a special segment to honor the victims and encourage the community as a result of the recent tragedy in Jacksonville.
On hand to honor and celebrate with Gospel Superfest and the city of Jacksonville will be multiple local clergy from various denominations.  An array of top national recording artists will take the stage in performance that will include Pastor Donnie McClurkin, Pastor John P. Kee, Jekalyn Carr, Minster Beverly Crawford, Koryn Hawthorne, Melvin Crispell, III, local vocalist Vicki Farrie, Shirley Murdock, Ricky Dillard & New G, Demetrius West & JP, Doe, Crystal Aikin, Kazual, The Dewitt Cooper Dancers and others.  Local Cox radio and TV personalities Wanda Patterson & Dawn Lopez are also scheduled to take the stage during the evening.  Gospel Superfest Live In Jacksonville "A Night of Healing" will be  recorded live for the Black Television Network (BET) Saturday, September 23rd at the Jacksonville Center for the Performing Arts.
"It's a rebranding of sorts in light of the unfortunate circumstances and recent tragedy", states Gospel Superfest Founder and executive producer, Bobby Cartwright, Jr.  "We have always been about the business of encouraging and uplifting our audiences through the genre of gospel music.  This gives us an opportunity to offer an inspirational moment to the families, the city and the region, while continuing in our core mission and purpose.  We will honor and respect the privacy of the victim's families, but we hope and pray they may have the strength to attend the taping." Dr. Cartwright further states. The show will be hosted by noted TV personality and red-carpet mainstay, Ms. Rocsi Diaz, who is most noted for her multiple-year run as host of the iconic BET show 106 & Park.  The event is presented by The Cartwright Family Foundation (a 501c3 organization established in the state of Ohio)
Gospel Superfest Live In Jacksonville "A Night of Healing" the live TV recording for Paramount's Black Entertainment Network (BET), will take place Saturday, September 23
rd
 at 7:30 PM at The Jacksonville Center For The Performing Arts.  The Theater is located at 300 W. Water Street in downtown, Jacksonville.  Tickets for the event can be purchased at
www.ticketmaster.com
 or in person at the Veteran's Memorial Box office.  For more information on Gospel Superfest Television please visit
www.gospelsuperfest.com
#nightofhealinginjax, #duvalstrong #jacksonvillestrong, #gospelsuperfest
About Gospel Superfest Television
Gospel Superfest is one of the nation's top inspirational music-driven productions specifically designed and developed for national television distribution. Founded in 1998 by its founder and executive producer Bobby Cartwright, Jr., the show has maintained a consistent presence in broadcast syndication for twenty-three consecutive TV seasons, reaching over 85% of US households with its telecasts. (Source Nielsen Media Research) Gospel Superfest' production company and distributor, Unity Media Limited, releases five one-hour specials annually which are released in domestic syndication and cable. The 2023 session GSF "Live in Jacksonville, A Night of Healing" will be carried by The Black Entertainment Television Network (BET) and also major TV network affiliates including ABC, CBS, NBC, FOX, CW, & MYTV affiliated stations throughout the US. Past and present cable affiliates include The Grio Network, TV One, Aspire Network, Bounce, TBN, Daystar, ION, The Word Network and others. Gospel Superfest TV programming reaches millions of TV viewers annually and is the most widely distributed TV brand in black gospel music.
Gospel Superfest TV is known for its elaborate staging, trendsetting production, and Broadway styled approach to gospel music television. GSF TV has become a "best in class" offering for TV audiences nationwide and has also become a coveted stage opportunity for gospel & R&B performers down through the years. Previous GSF live recordings have been held in New York City, Atlanta, GA, Chicago, IL, Memphis, TN, Jacksonville, FL, Cincinnati, OH, Baltimore, MD and most recently Dayton & Columbus, OH. The production will return to Jacksonville, FL in 2023.  Since the program's inception in the year 2000, GSF has garnered the attention of blue-chip advertisers and partners including Procter & Gamble, Allstate Insurance, Johnson & Johnson, Walmart Stores, GM, SC Johnson, Kraft, African Pride Hair Care, McDonald's, Ford Motor Company, among others. The show will continue to build on its rich legacy this fall as it records season twenty-four in Jacksonville, FL this coming September. More info on Gospel Superfest is available at www.gospelsuperfest.com or by calling the program's hotline at (800) 219-0337. Press inquiries should be by email at [email protected].