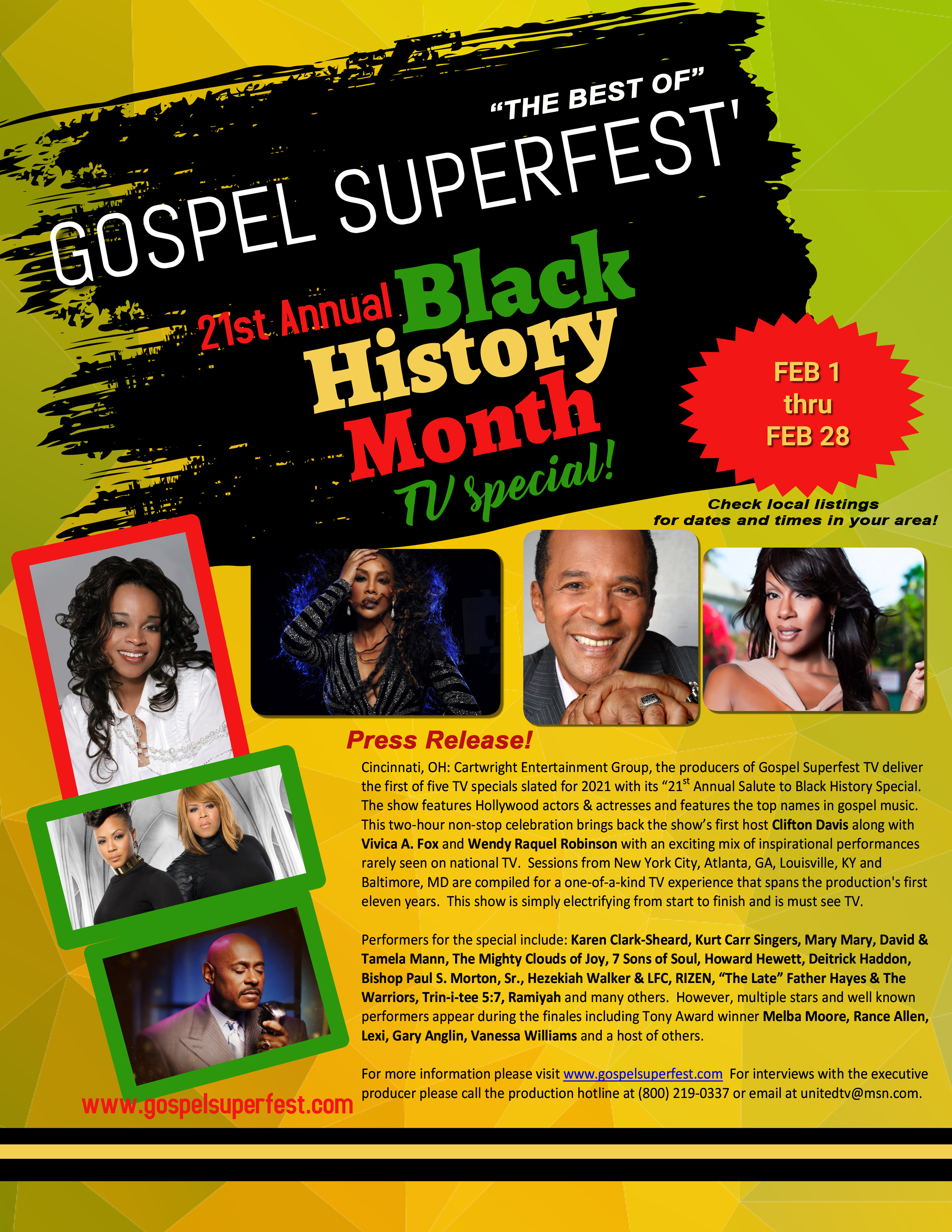 Cartwright Entertainment Group, the producers of Gospel Superfest TV deliver the first of five TV specials slated for 2021 with its "21st Annual Salute to Black History Special.  The show features Hollywood actors & actresses and features the top names in gospel music.  Using new European technology, the firm was able to reach back over two-decades and convert the vintage years to high definition seamlessly.  "This show is a technical marvel, as many will just think we were shooting HD twenty-years ago." States the show's founder and executive producer Bobby Cartwright, Jr.  "We are so proud of our heritage and body of works.  Many viewers will be seeing these performances for the first time and will truly be inspired." Cartwright further states.
This two-hour marathon brings back the show's first host Clifton Davis along with Vivica A. Fox and Wendy Raquel Robinson with an exciting mix of inspirational performances rarely scene on national TV.  Sessions from New York City, Atlanta, GA, Louisville, KY and Baltimore, MD are compiled for a one-of-a-kind TV experience.  The show is simply electrifying from start to finish.  It is must see TV.
Performers for the special include: Karen Clark-Sheard, Kurt Carr Singers, Mary Mary, David & Tamela Mann, The Mighty Clouds of Joy, 7 Sons of Soul, Howard Hewett, Deitrick Haddon, Bishop Paul S. Morton, Sr., Hezekiah Walker & LFC, Rizen, "The Late" Father Hayes & The Warriors, Trin-i-tee 5:7, Ramiyah and many others.
The Best of Gospel Superfest Salute to Black History 21 will air in syndication, February 1 thru February 28, 2021.  Please check local listings for dates and times in your area.  
For more information please visit www.gospelsuperfest.com