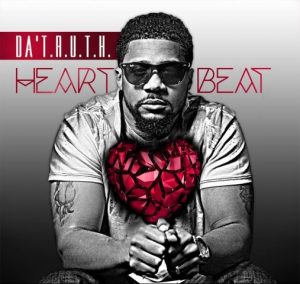 Today,  Da' T.R.U.T.H. will releases his new album, "Heartbeat". The Christian Rapper enlisted Grammy Award-winning producer J.R. to produce this 7th studio release.
"I originally planned to step away from music until 2015 to focus on Mixed Bag Entertainment, but after almost a year of watching & observing the culture, I realized that I had a few more things that I wanted to share. What started as a 3-5 song EP, became a full length album. This record is fun – it's experimental, gritty and engaging, and having my longtime friend help me to shape the project makes it that much more enjoyable," says Da' T.R.U.T.H.
"Heartbeat" will feature notable artists Lecrae, Chris August, Isaac Caree, Alexis Spight, Canon, Papa San, Capital Kings, along with newly signed Mixed Bag Artists. Along with J.R., the album is being produced by Grammy Award Winning Producer – Symbolyc One (S1), Justin Ebach, (Newsboys), Alex Medina along with new & upcoming producers.
"Heartbeat" is the first of many projects that Mixed Bag will be releasing in the coming year.  Entertainment One (eOne) Distribution is slated to handle both digital and physical releases of the album.
'Heartbeat' Tracklist
1. 'Gray (feat. J.R.)'
2. 'Press (feat. Papa San & Canon)'
3. 'Loud & Clear (feat. Jon White (of Capital Kings) & Tedashii)'
4. 'I Made It (feat. Black Knight & TC)'
5. 'Promises (feat. Isaac Carree)'
6. 'Come Home (feat. Z.G., TJ Pompeo & Prayz1)'
7. 'Waiting (Interlude)'
8. 'Welcome Home (feat. James Fortune)'
9. 'Standing O (feat. TJ Pompeo)'
10. 'Mixed Bag'
11. 'Compare (feat. Alexis Spight)'
12. 'Bully (feat. J.R.)'
13. 'Change the World (feat. Chris August)'
14. 'Heartbeat (feat. Lecrae & Lauren Lee)'
15. 'Rising Sun (feat. Z.G., TJ Pompeo & Prayz1)'
16. 'Hope (Remix)'