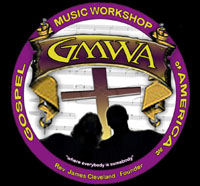 The Gospel Music Workshop of America (GMWA) will call Tampa home this August as the convention heads south after two successful conventions in Cincinnati.
The biggest Gospel music convention brings its celebration of all things Gospel with a new line up of amazing concerts, showcases and speakers to South Florida on August 13-19th at the Tampa Convention Center, located at 333 S. Franklin Street, Tampa FL.
With a membership of thousands that include radio announcers, artists, promoters, independent companies, label executives and fans, this Convention will incorporate academic classes, evangelism and outreach, daily church services nightly musicals and showcases.
GMWA will bring world-renowned ministers, speakers and artists to Tampa for the morning "Daily Bread" ministry services including Bishop Brian D. Moore, Rev. Jasper Williams, Prophet Brian Mosley and Bishop Paul S. Morton.
Verizon, long time supporter of faith-based initiatives and sponsor of How Sweet The Sound Choir Competition, will again sponsor several events during GMWA week.   There will be two "Midnight Musicals" featuring some of today's popular gospel artists including Kirk Franklin, James Fortune & F.I.Y.A., JJ Hairston & Youthful Praise, Rance Allen, John P. Kee, Myron Butler, Dorinda Clark Cole and more!
Nightly Youth Musicals featuring today's hippest Gospel hip hop artists Lecrae, Canton Jones and more will take place at the Tampa Marriott Waterside Resort. Culminating the week will be a very special 'Tribute to the King' concert. This concert will be an audio and video recording commemorating GMWA founder, Rev. James Cleveland's 80th Birthday.
Events are accessible by purchasing a Day or Week Pass at the Exhibition Hall at the Tampa Convention Center. Tickets to the nightly musicals can also be purchased. More information and a detailed schedule of events can be found on-line at www.gmwanational.net
GMWA 2011 Key Events
**Schedule subject to change
GMWA SERVES – A community-service day.
SATURDAY, AUGUST 13
Daily Bread Services: MONDAY – THURSDAY
Time: 10:00am – 12:30pm
Location: TAMPA CONVENTION CENTER – BALLROOM
333 S. Franklin St, Tampa FL 33602
Monday 8/15 – Bishop Brian D. Moore (Charleston, SC)
Tuesday 8/16 – Rev. Jasper Williams (Atlanta GA)
Wednesday 8/17 – Prophet Brian Mosley (Atlanta GA)
Thursday 8/18 – Bishop Paul S Morton (Atlanta GA)
Verizon "How Sweet The Sound" Midnight Musicals: Tuesday, August 16 & Wednesday August 17
Time: Doors Open at 11:00pm Starts Promptly at 12 Midnight
Location: TAMPA CONVENTION CENTER – BALLROOM
333 S. Franklin St, Tampa FL 33602
Tuesday: Kirk Franklin, James Fortune & F.I.Y.A., JJ Hairston & Youthful Praise and Jessica Reedy
Wednesday: Rance Allen, John P. Kee, Marvin Sapp and Dorinda Clark Cole
SPECIAL PRESS EVENTS:
GMWA Serves Press Conference – Friday, August 12
2:00pm
Location: TAMPA CONVENTION CENTER – BALLROOM
333 S. Franklin St, Tampa FL 33602
CRSTAL MIC AWARDS – Thursday, August 18
1:00pm Red Carpet
2:00pm – Crystal Mic Awards: Honoring Media & Radio in Gospel
Location: Tampa Waterside Marriott – Grand Ballroom A-F
700 S. Florida Avenue, Tampa FL 33602
SALUTE TO QUARTETS – Thursday, August 18
7:00pm -Quartet Division Salute to Quartets
Location: TAMPA CONVENTION CENTER – BALLROOM
333 S. Franklin St, Tampa FL 33602
TRIBUTE TO THE KING – Friday, August 19
6:00pm – Doors Open
7:00pm – Finale Concert: Live Audio & Video Recording Commemorating Founder, Rev. James Cleveland's 80th Birthday
Location: TAMPA CONVENTION CENTER – BALLROOM
333 S. Franklin St, Tampa FL 33602