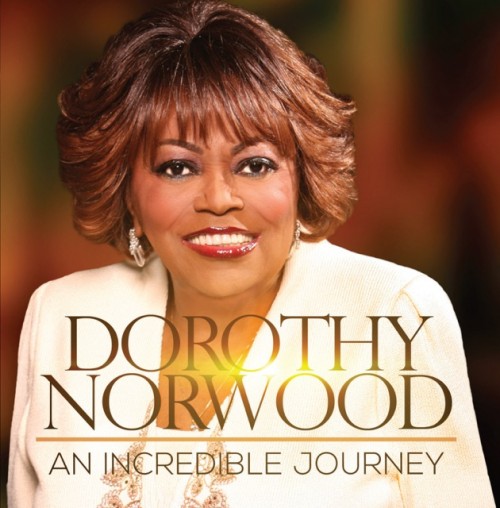 Gospel music's legendary storyteller Dorothy Norwood has notched the highest album debut of her six-decade career with her 52nd project "An Incredible Journey" (DNMG/Echo Park JDI) that comes in at #2 on Billboard Magazine's Gospel Albums chart this week and #57 on the Top 200 – her first ever placement on that listing. The soul-stirring project tops Norwood's previous best-seller "Live featuring California G.M.W.A. Mass Choir" that peaked at #3 on the Gospel Albums chart in January 1992 on the heels of Norwood's radio smashes "Victory is Mine" and "Somebody Prayed for Me." Norwood is currently on an intense, cross-country radio promotion and concert tour to promote the new CD.
The new eleven-track set is fueled by the chorale-styled radio smash "Oh Jesus" that is zooming up gospel playlists everywhere and the initial Top 30 radio single "When the Church begins to Pray" that features Melvin Williams of The Williams Brothers. There are guest appearances from a who's who in gospel such as Vashawn Mitchell ("Great Jehovah God"), Dorinda Clark Cole ("It Could Have Been Me"), Lejuene Thompson ("Blessing in the Room") and Roxanne Broadnax ("Who Touched Me?"). The rousing collection was produced and recorded live by Grammy Award winner Cedric Thompson and Dorothy Norwood at Reid Temple A.M.E. Church in Glendale, MD.
Ms. Norwood has been singing professionally since 1956 when she kicked her career off backing up gospel great Mahalia Jackson in Chicago. She went on to join The Caravans, which was one of the Top gospel groups of the 1950s. She launched her solo career in 1964 with the gold-selling LP "Johnny and Jesus." In the early 1970s, Norwood toured with The Rolling Stones and also crossed over to the R&B charts with her hit songs "There's Got to Be Rain in Your Life (To Appreciate the Sunshine)" and "Let Your Feet Down Easy." She recorded for Savoy Records through the 1980s but made a huge comeback in the 1990s when she joined Malaco Records and has since churned out a string of radio hits such as "Shake the Devil Off" and "Praise in the Temple."
Echo Park/JDI Entertainment is an entertainment company specializing in Urban Inspirational Music and Media Properties and is the home of Ambassador Dr. Bobby Jones, Beverly Crawford, Bryan Andrew Wilson, James Grear & Co. and Brent Jones.