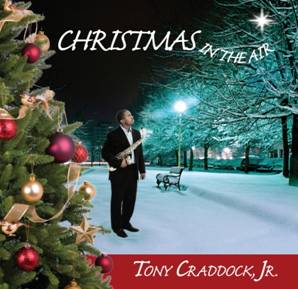 Gospel Jazz is a burgeoning genre.  Artists such as Ben Tankard, Angella Christie and Kirk Whalum are known for their contributions to the field.  Now another gifted artist, Tony Craddock, Jr., has stepped into the Gospel Jazz spotlight.  Hailing from Northern Virginia near the Washington, D.C. area, Craddock, a talented saxophonist, has just released his debut project called
Christmas In The Air
.  The CD contains some of the holiday's most beloved tunes.  The musician tackles favorites like a festive version of the lead single, "Deck The Halls", the holiday perennial "Silent Night" and the memorable "Christmas Time Is Here".  Other songs include the winter lover's theme, "Let It Snow! Let It Snow! Let It Snow!", the beckoning "O Come All Ye Faithful" and the reverent  "The First Noel".
The instrumentalist is already getting rave reviews on the new release.  Ronald Jackson of TheSmoothJazzRide.com says, "It is always refreshing to listen to music that is well-conceived, even if it consists of covers (which can be the most difficult to reproduce in a stand-out way without an abundance of creativity and imagination). Craddock puts such a nice touch of each of these and really makes you feel as though this is a production of all-original material.  Christmas In The Air is a truly marvelous holiday find for your music collection but, more importantly, Craddock firmly establishes his credentials as a producer, arranger, and artist in an undisputable manner. Kudos to the young man."
A graduate of Cornell University with a B.S. in Atmospheric Science, Craddock was inspired musically by listening to the Jazz music played during The Weather Channel's "Local on the 8s".  That motivation was the impetus for forming an Inspirational Jazz trio which played at nursing homes throughout the Nation's Capital.  In addition to pursuing his musical ambitions as a teenager, he excelled in academics.  In June 2006, he was featured in EBONY Magazine as one of the Top 35 Black High School Students in America.  At Cornell, he was part of the "Chosen Generation Gospel Choir" and formed "After Six," an instrumental ensemble.  Tony Craddock, Jr. is a member of First Mount Zion Baptist Church in Dumfries, VA and has opened for GRAMMY Award Nominee and Stellar Award Winner Ben Tankard.
Fans of the artist can catch him live twice during the holiday season.  He will be performing at Potomac Mills Mall in Woodbridge, VA on Sunday, December 11th from 4-6PM and on Saturday, December 17th from 2-4PM.  For more information about Tony Craddock, Jr., log on to www.facebook.com/tonycraddockjr.