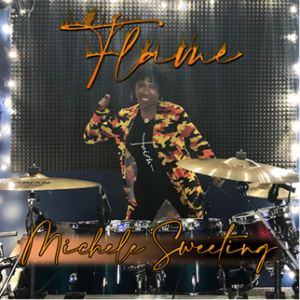 Gospel artist Michele Sweeting has been leaving believers burning with a heart for God for years now. The gifted psalmist and worship leader, known as "The New York City Song Bird", delivers unforgettable performances with a passion rarely seen in Gospel music. Uplifting souls from the church house to the jailhouse, she sees music as a vehicle to share the good news of the Savior. Fans of the artist became acquainted with the powerhouse vocalist years ago with her debut single, "Center of My Joy", a rendition of the Richard Smallwood classic. Since that time, she's provided the Gospel music community with one memorable song after another. Now, she is prepared to set souls ablaze again with her brand new single, "Flame", an inspiring praise song about the fire of God. "Flame" is currently available on Apple Music, Amazon, Google Play and other digital music outlets.
Sung with sincerity and gut-wrenching emotion, "Flame" uniquely melds captivating praise and reverent worship, all in four minutes. Penned by Gerard Brooks and Sean McClain, "Flame" is a song that is destined to leave the worshiper with the song on tip of their lips. "When I first heard 'Flame', I thought it was amazing," Sweeting recounts. "It reminded me of the fire that God put within me," she says. "It's a flame that burns constantly. Once God puts His fire on the inside of you, no one can put it out." Those who are familiar with Sweeting's previous work will notice a different sound with this song. "Musically, 'Flame' is a slight departure for me. A couple of years ago, I don't think I would have had the confidence to sing it the way that it needed to be sung. But I have grown as an artist, as a vocalist and as a woman of God, and this song is so perfect for where I am in life at this moment."
Not only has Michele grown as an artist, but she's also grown in ministry. In addition her role as Gospel artist, in November 2019, she was ordained as a minister of the Gospel; she now preaches the word as well as sings it. In partnership in ministry and marriage with Pastor Louis DeCaro, Jr., PhD, she relishes the new opportunities she's been given to evangelize. The new title of "Reverend" is just an extension of her singing ministry which began at the renowned High School of Music & Art in New York City. After the release of "Center of My Joy" (and a project by the same name), which peaked at #1 on New York City's Gospel charts, she followed up the hit with a sophomore project, Lamb of God. Loved by fans, "New Thing", currently on the BDS Gospel Chart, laid the groundwork for Michele's upcoming project. "Flame" is the latest song to drop from the forthcoming third CD, Just Believe, on Motor City Praise Records. With each track, she further establishes herself as an influential and God-breathed voice in the sacred genre of Gospel.
Her talent has been experienced by believers and non-believers nationwide and beyond. Last year, she had the opportunity to minister in song in Cuba at the Karl Marx Theatre, a featured artist in the first Gospel concert to ever take place at the 5500-seat theatre. She's traveled to Russia, Egypt, Trinidad, Barbados and in the US from coast to coast. Never one to let grass grow under her feet, she is also an adjunct professor at the City College of New York, CWE, and John Jay College's Prison-to-College Pipeline. To connect with her on social media, reach out to her on Facebook, Twitter and Instagram.