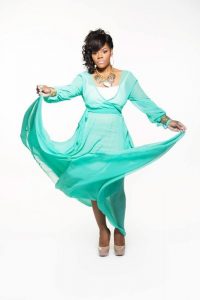 For Gospel artist, Dana Hemphill, 2013 has been an amazing year and she's closing it out and beginning 2014 both on a high note. On December 29th, Dana will be a guest performer for the Official Kirk Franklin Gospel Brunch at the House of Blues Dallas for two awesome shows, 11:30am and 1pm. Those in attendance will be treated to Dana singing classics from Kirk Franklin, Edwin Hawkins, Andre Crouch and more. Immediately following, on New Year's Eve, Hemphill will worship with TreeMount Temple Church in San Antonio, TX and bring in the New Year through song. Dana's exciting journey will continue at the start of 2014, where she will head to Nashville, TN to perform during the Gospel Music Stellar Award week.
On, January 16th, Hemphill will perform new music from I Will Declare during the Urban Soul Café event "Homecoming: The Black Out Edition". This year's Urban Soul Café event will include a tribute to Twinkie Clark, Vashawn Mitchell and Aaron Lindsey. The "Homecoming: Black Out Edition" event will be held at the Limelight Entertainment Venue, 201 Woodland Street, Nashville, TN and hosted by Ms. Damita Haddon and Myron Butler, one of the producers from Dana's project I Will Declare.
Immediately following her exciting week in Nashville, TN, Dana will head back to Texas to open up for Jessica Reedy on, January 25th for "The Grant Partners New Year Gospel Celebration". "The Grant Partners New Year Gospel Celebration" will be held at Remnant of Grace Church, 2320 56th St, Dallas, TX 75241 and will begin at 6pm.
When the anointed Dana Hemphill titled her project, "I Will Declare", little did she know, how quickly God would show his strength in so many areas of her life. Penned by, Dana Hemphill and Dwayne Sherrod, the lyrics to the title track, "I Will Declare" explain exactly how God has proven himself, "For every mountain, for every trial, for every valley, the outcome of it all, he's been there for me, promised to never leave or forsake me, I give him praise, I will declare his name is Jesus. "I will declare Him: Faithful, Healer, Father, Counselor, Provider and Holy. I will Declare His Name is Jesus."