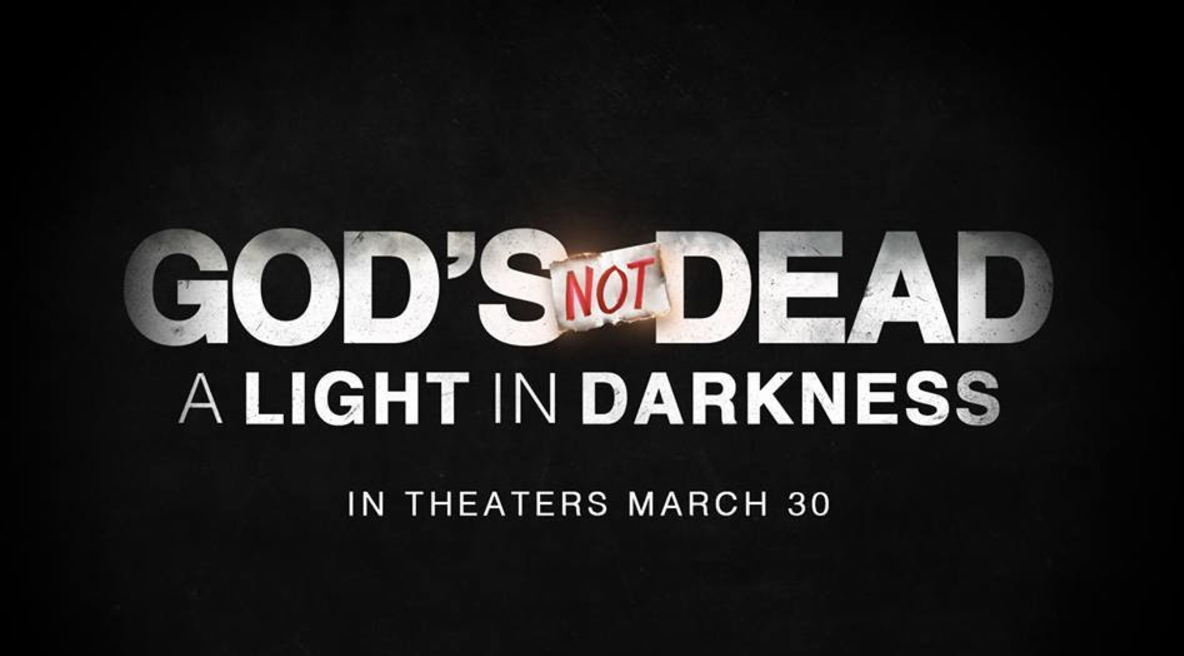 PURE FLIX, the leading independentfaith and family film studio, announces the completion of principal photographyfor GOD'S NOT DEAD: A LIGHT IN DARKNESS,scheduled to release in theatres next Easter on March 30, 2018.
Filmed on location in Little Rock, Arkansas, GOD'SNOT DEAD: A LIGHT IN DARKNESS stars David A.R. White (GOD'S NOT DEAD), Emmy Award®and Golden Globe® nominee John Corbett (MY BIG FAT GREEK WEDDING), Shane Harper(GOD'S NOT DEAD), Ted McGinley (Marriedwith Children), Jennifer Taylor (Twoand a Half Men), and AcademyAward® winner Tatum O'Neal (PAPER MOON).
Additional cast includes Emmy Award® winner GregoryAlan Williams, Mike C. Manning, Samantha Boscarino, rap artist Shwayze,Jennifer Cipolla, and music legend Dr. Cissy Houston. Reprising their rolesfrom GOD'S NOT DEAD are actors Shane Harper ("Josh") and Benjamin Onyango("Reverend Jude").
GOD'S NOT DEAD: A LIGHT IN DARKNESS is aninspirational drama that centers on Pastor Dave (David A.R. White) and the unimaginabletragedy he endures when his church, located on the grounds of the localuniversity, is burned down.
But his dreams of rebuilding the church facean unexpected setback when university officials reject his plans to rebuild,determining that the church is no longer relevant in today's society.
Trusting in the motto that he has lived bythat "God is good all the time," Pastor Dave enlists the legal help of hisestranged brother Pearce (John Corbett), who is an attorney but also an atheist.
As they partner together for a united cause, thebrothers come to understand that not every victory requires defeating theopposition, and there is a greater win when you heal and rebuild withcompassion and respect for others.
"Audiences have continued to show support andinterest in the GOD'S NOT DEAD films and their relatable characters who enduresimilar challenges in their personal faith and lives," says Michael Scott, PureFlix founding partner. "Our hope is that these films offer entertainment andencouragement, with a starting point for sharing faith in a respectable andcompassionate manner."
GOD'S NOT DEAD: A LIGHT IN DARKNESS is the latest addition in the filmfranchise, which started with GOD'S NOT DEAD, the highest-grossing independentfaith film of 2014, taking in more than $60 million at the box office.
GOD'S NOT DEAD: A LIGHT IN DARKNESS is Directedby Michael Mason and Produced by David A.R. White, Michael Scott, BrittanyYost, Elizabeth Travis, and Alysoun Wolfe, and Executive Produced by Troy Duhonand Robert Katz.
Moviegoers can follow the film on the official web site at www.GodsNotDead.com, on Facebook at www.facebook.com/GodsNotDeadTheMovie, or on Twitter @GodsNotDeadFilm
About Pure Flix
Founded in 2005, and led by partners Michael Scott, DavidA.R. White, Elizabeth Travis and Alysoun Wolfe, Pure Flix is the leadingindependent faith and family studio in the world. Its recent releasesinclude: THE CASE FOR CHRIST, GOD'SNOT DEAD 2, GOD'S NOT DEAD, DO YOU BELIEVE?, WOODLAWN, A QUESTION OF FAITH, andSAME KIND OF DIFFERENT AS ME. With offices in Los Angeles andScottsdale, Pure Flix has produced, acquired, marketed and distributedover 100 faith and family-friendly films. Aligned with their vision toinfluence the global culture for Christ through media, Pure Flix is theindustry leader in creating high-quality inspirational feature filmcontent. The studio's official website is Pureflixstudio.com. The company also features a leading streaming video on demand service, withthousands of movies, originals, TV shows and more emphasizing faith, family andfun. For more information, go to Pureflix.com.