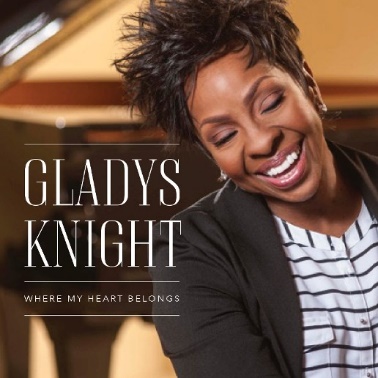 Gladys Knight is an icon by any standards.  With seven GRAMMY Awards to her name, #1 chartings on numerous charts and over 40 albums to her credit, her name is synonymous with timeless classics.  Now the legendary vocalist returns with a brand new CD, this one highlighting her faith.  Where My Heart Belongs, a Gospel and inspirational project, releases on Shadow Mountain Records for Deseret Book on September 9th.
A woman of faith, Gladys Knight is no stranger to Gospel music.  The Georgia-born singer is the recipient of two GRAMMYs in the sacred genre: for her duet with the late Ray Charles on his Genius Loves Company CD and for her project, One Voice, recorded with the Saints Unified Choir.  Ms. Knight adds more inspirational songs to her burgeoning repertoire with the release of the 10-track project, Where My Heart Belongs.
Containing songs perfect for Sunday morning or intimate times of worship, Ms. Knight provides soon-to-be-classics like the lead single, "Need You Love You", co-written by BeBe Winans and a stunning rendition of Kirk Franklin's "Always".  Other memorable tracks include the impressive "In The Midst Of The Rain", the declarative "Champions", the brilliantly-arranged, "There Is A Green Hill Far Away" and the Negro spiritual "Were You There".
The project is the 2nd release from Ms. Knight from Shadow Mountain Records.  Bart Olson, Product Director for Shadow Mountain Records, is excited about the new release.  "I am thrilled about Gladys Knight's new CD.  We, at Shadow Mountain Records, are proud to have such an amazing artist on our roster.  Gladys Knight is a timeless artist and with the release of Where My Heart Belongs, we believe she will continue to inspire countless believers."
Many know Gladys Knight from her illustrious career as the lead singer of the soulful ensemble Gladys Knight and the Pips, but Gospel music has always held a special place in her heart. Singing since the age of 4, Gladys Knight honed her skills in the church.  "I have always loved Gospel music; that is my beginning," she shares.  "My first time singing in public was in the youth choir at church. After we were baptized, all of the youth joined the Sunshine choir.  Since that time, Gospel music has been a part of my life.  I have always been singing Gospel music."