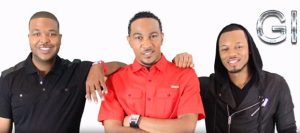 Gi's hit single "Pray and Don't Worry" recently broke Top 30 landing at # 27 on the Gospel Media Base Charts. The song has been climbing the charts every since it was released. It's funky groove, infectious beat, and relatable message makes it another instant classic for the group.
A few weeks ago, Gi's popular reality series "Gi's Journey" returned to much acclaim. The show garnered over 10,000 viewers within it's first week. The season premiere included special guest appearances from Bishop Marvin Sapp, Tina Campbell, Myron Butler, and JJ Hairston just to name a few. The show chronicles the group's movement in the industry, as well as their personal lives outside of the group. The show airs weekly at 9pm EST exclusively on Gi's youtube page and Facebook page.
The group is currently in the studio putting finishing touches on their 3rd Studio Album. Their current EP "Pray and Don't Worry" hit Top 20 on the Billboard Charts. Click below to view the Season Premiere and be sure to tune in every Thursday at 9pm for new episodes.