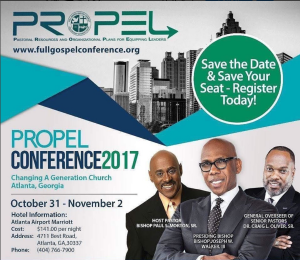 The Full Gospel Baptist Church Fellowship announced today that it will host its signature, global leadership conference, PROPEL 2017, for pastors and leaders Tuesday, October 31 through Thursday, November 2 at Changing A Generation Church, located in Atlanta.
In alignment with the strategic initiative Live Full, the mission of PROPEL (Pastoral Resources and Organizational Plans for Equipping Leaders) is to empower and equip Pastors and Ministry Leaders in enhancing their effectiveness in leading transformation in their unique context of ministry. This annual three-day gathering will provide general sessions, master classes, customized daily instruction, and ministry networking to thousands of Pastors, Ministry Leaders, Staff and Volunteers.
"Full Gospel Baptist Church Fellowship International will be utilizing innovative pedagogy, merging successful commerce concepts and presenting unchartered, ministry solutions for the advancement of pastors and leaders at PROPEL 2017," says Bishop Joseph W. Walker III.  "We strive to impact, imprint, and empower multi-generational leaders with resources and tools to establish and maintain a cultural shift in their respective communities."
PROPEL is purposed for a diverse group of individuals who are passionate about the reason behind their vocation and who are dedicated to helping others; a group of leaders and members of growing churches who have all the qualities of small business owners who publish books, pursue educational opportunities, and utilize modern technology.
"In addition to resources that can be implemented in their unique context of ministry, PROPEL is designed to provide pastors and leaders with organizational plans, best practices, and methodologies that can be implemented in a church or organization without regard to the size or geographical location that can enhance the efficacy of the ministry's imprint and effectiveness," adds General Overseer Craig L. Oliver, Sr.
Learning topics and workshops including Servant Leadership, Social Justice, Ministering to Millennials, Breaking The Growth Barriers, Who Will Do It With Me: Church Planting, E-Church/Media, and Customer Relationship Managementwill be led by Presiding Bishop Joseph Walker, III, Bishop Victor Couzens, Pastor Darrell Hall, Bishop William Murphy, III, General Overseer Craig L. Oliver, Sr. and more.
Group discounts of 10 registrants are available providing a savings of nearly $500.  Don't miss the opportunity to be propelled and to Live Full.  
Register today at http://www.fullgospelconference.org/
About Full Gospel Baptist Church Fellowship International®
The birth of the Full Gospel Baptist Church Fellowship International is in essence the story of a tremendous move of God beginning in the last decade of the twentieth century. The spiritual religious freedom that makes Full Gospel Baptist unique has impacted Christian men and women across the world.