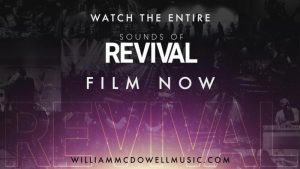 As he did with his award-winning "Withholding Nothing," William will again offer 7 Days of Worship. The last streaming event attracted viewers from 127 nations in 7 days.
Today kicks off a week of free viewing of the full Sounds of Revival experience on williammcdowellmusic.com. Combining live performances of songs from the first "Sounds of Revival," as well as "Sounds of Revival II: Deeper" fans can experience the full breadth of the worship experience.
Streaming will be available from February 24 until March 3 and features performances by Israel Houghton, Travis Greene, Jonathan McReynolds, Brian Courtney Wilson, Nicole Binion, Jonathan Stockstill and more!