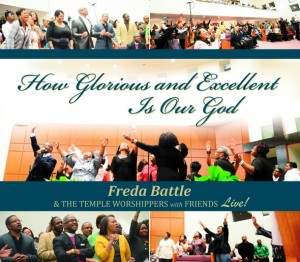 Worship Leader, Songwriter and Recording Artist Freda Battle along with her choir The Temple Worshippers with Friends will release their highly anticipated CD, HOW GLORIOUS AND EXCELLENT IS OUR GOD available in stores and on-line everywhere July 17 via Peace-O-Mind Music/Central South Distribution. Marketing and publicity efforts are being powered by the J. Hardy Agency.
Freda Battle & the Temple Worshippers returns to the music scene with their first CD in six years. HOW GLORIOUS AND EXCELLENT IS OUR GOD, produced by brother duo Gerald and David Langford was recorded and streamed live in Boston at Morning Star Baptist Church, where Battle serves as a worship leader proves that she still has more to offer the Gospel music community.
From the high church energy of the title cut "How Glorious & Excellent Is Our God" and the Brazilian infused tune "150 Praises" to the passionate reflection of "His Presence Is Here" and the refreshing latin-flavored praise and worship song "Oh How I Love", this striking 12-song collection, which features guest appearances from Dove Award-nominated and Stellar Award winning worship artist Stephen Hurd, Rodney Posey, Michael White and Bobby Perry (of Bobby Perry & R.A.I.N), is evidence not merely of a collection of great singers, but seasoned ministers.
Other notable features include Boston based artists Jerome Kyles, and Ayana McDonald (of Bobby Perry & R.A.I.N), Temple Worshipper members Evette Anderson and Montez Cardwell and the prolific prowess of maestro George W. Russell, Jr. on piano.
Vicki Mack Lataillade, who is considered one of the most powerful women in Gospel music and has broken artists such as Kirk Franklin, Kurt Carr and Trin-i-tee 5:7 says, "I have loved Freda Battle since forever! She is the real deal! If you see Freda Battle in her full anointing, you will never be the same!
Battle, who began recording albums independently in the late 1980s founded The Temple Worshippers – a city wide choral aggregation in 1997. Freda Battle & the Temple Worshippers introduced themselves to the world with their 1998 FOR ALL YOU'VE DONE FOR ME independent project, which garnered them national notoriety. Most recently Battle's hit song "For All You've Done" was featured on "Beverly's Full House" on the OWN: Oprah Winfrey Network- #1 original series in its time period for AA W25-54 among 97 ad-supported cable networks
Freda Battle & Temple Worshippers first national CD release was 2002's SERIOUS PRAISE (Axiom Records) that featured the Caribbean-styled radio smash, "Serious Praise" and "No One Deserves". SERIOUS PRAISE was also recognized by the Gospel Music Workshop of America with an Excellence Award Nomination for Contemporary Group of the Year. Battle and her choir amassed world-wide recognition in 2006 with their sophomore national release HERE IS OUR PRAISE (Axiom Records), which was produced by Grammy, Dove, and Stellar award winning worship artist Israel Houghton.
TRACK LISTING:
How Glorious & Excellent Is Our God featuring Rodney Posey
150 Praises featuring Evette Anderson
House of the Righteous featuring Bobby Perry
I Need Your Presence featuring Montez Cardwell
We Enter Your Gates featuring Ayana McDonald
Great & Marvelous God featuring Jerome Kyles
Oh How I Love featuring George W. Russell, Jr. (On piano)
Bless The Name of Jesus featuring Michael White
His Presence Is Here
Here Is Our Praise featuring Rodney Posey
Worship the Father featuring Stephen Hurd
I Rest