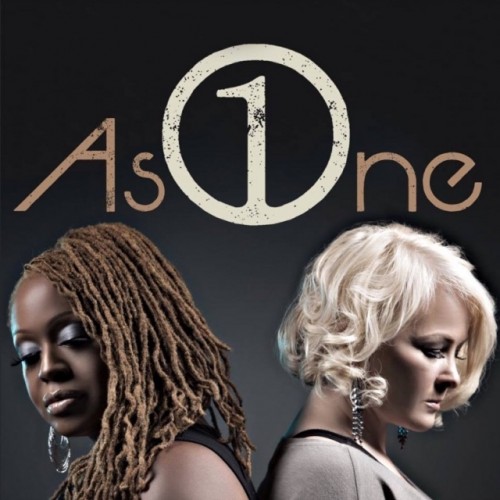 Emerging female duo AsOne delivers an innovative sound to the industry with their self-titled debut album release AsOne (360 MusicWorx/Capitol Christian Distribution/Universal Music Group) available in stores and online everywhere on iTunes (apple.co/1eFxeRi), Google Play (bit.ly/1JfE1hf) and Amazon.com (amzn.to/1dcVN6j).
From the very first song to the very last, you are taken on a captivating musical journey with lush orchestrated ballads, exciting Gospel influenced up tempos with heart pounding percussion, and awe-inspiring Rock prevalent guitar riffs, all crashing into gigantic hooks. Modern melodies paired with the symphony of strings that works its way through the choruses are powerfully unexpected.
Lisa Wright and Theresa Bailey who are the first interracial female duo in music history co-wrote all the songs on their album with production by Nashville stalwart and Stellar Award winning producer Paul Wright known for his production credits on Fred Hammond's "Pages of Life 1 & 2" and Hezekiah Walker's "Live In London" among more.
The 8-track album features 10-time Grammy Award winner Mark Kibble of Take 6 on"You Prayed Me Through," Stellar Award winning Christian Rapper Da' T.R.U.T.H on the African-inspired sounds of standout track "One" with backing vocal contributions from award winning aggregation Lamar Campbell and Spirit of Praise – who's also featured on the lead single"Hero"and "Love Won" – a musical testimony of overcoming. "Love Is a Better Way" featuring one of Nashville's top acts: The McCrary Sisters zooms full speed ahead from its beginning with its rhythmic, horn-filled instrumentation and messages of hope.
Theres no doubt about it, this ground breaking release is intelligent, artistic and inspiring. It's that very call for unity and racial harmony that is so desperately needed in times like these. It's everything but ordinary and is destined to make a monumental difference everywhere.
WHAT ARE PEOPLE SAYING?
"The sound of AsOne is so refreshing and their message of hope, love & God even more powerful. I'm sure anyone that hears them will be inspired,encouraged & uplifted to the highest" ~ PERCY BADY (Producer, Musician and Composer for Whitney Houston, BeBe & CeCe Winans, Kirk Franklin & Fred Hammond)
"I love what AsOne is about…they are leading the way by powerful example that a vision of unity can propel christian music forward beyond traditional boundaries and that the church of the future must be far bigger than the labels of genre we've created." ~ BERNIE HERMS (Producer of Natalie Grant, Casting Crowns, Steven Curtis Chapman)
"I was so happy to have been ask to be a part of AsOne's inaugural release. This dynamic duo will win you over immediately with their pure heartfelt vocals that parallel the sincere message of love and hope experienced on this project. What a breath of fresh wind and much needed addition to music lovers in the Body of Christ!" ~LAMAR CAMPBELL (Gospel Recording Artist)
"I love what this project represents on every level. It takes me back to classic Contemporary music and I believe that it will inspire many to love God and one another around the world." ~ Da T.R.U.T.H (Stellar Award winning Christian Rapper)