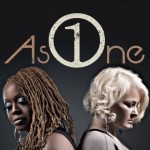 Music's first ever interracial female duo, AsOne, announces the official street date for their forthcoming self-titled debut album 'AsOne' – set to be released in stores and online everywhere Tuesday, June 23 on Capitol Christian Music Group/360MusicWorx/Universal Music Group.
The 8-track self-titled album features the duo's lead single "Hero," featuring backing vocal contributions from Stellar Award nominated aggregation Lamar Campbell and Spirit of Praise (best known for the popular hit song "I Love You Jesus/More Than Anything") which has already proven itself a champion at radio for boldly declaring God's undefeatable love.
The rest of the album is an assembly of diverse sounds and musical textures pieced together to share stories of love, hope, faith, and triumph. "Love Is a Better Way" zooms full speed ahead from its beginning with its rhythmic, horn-filled instrumentation and messages of hope while songs like "Love Won" and "Born To Die" narrate musical testimonies of overcoming. This theme is common across the album, as evidenced by the emotional "He's Faithful" – a soothing number lined with tidings of God's everlasting faithfulness. 10-Time Grammy Award winner Mark Kibble of Take 6 teams up with AsOne on the song "You Prayed Me Through."
Elsewhere on this musical journey, listeners are guided to the African-inspired sounds of standout track "One" featuring Stellar Award winning Christian rapper Da' T.R.U.T.H. and Lamar Campbell & Spirit of Praise. A percussion-laden affair, the song radiates as an ode to appreciating everyone's differences and, in essence, lends itself as an emblem to what the group stands for – unity.
It's that very call for unity and racial harmony that is so desperately needed in times like these. And, if their debut album is any indication, AsOne has no reservation taking a stand to spearhead that movement.
AsOne will embark on a promotional tour in support of their self-titled debut release. They will make stops in Augusta, GA at the Garden City Gospel Fest (May 30); Praise in the Park in Atlanta, GA (August 1); Nashville (June 20); and Los Angeles (June 27); among other cities to be announced at a later date.
Track Listing:
1. Hero (feat. Lamar Campbell & Spirit of Praise)
2. Love Won (feat. Lamar Campbell & Spirit of Praise)
3. One (feat. Da' T.R.U.T.H and Lamar Campbell & Spirit of Praise)
4. Born To Die
5. He's Faithful
6. Love Is A Better Way
7. All I Need Is You
8. You Prayed Me Through (feat. Mark Kibble of Take 6)