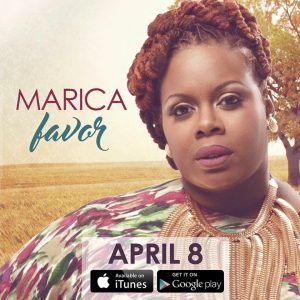 Contemporary Praise & Worship artist, Marica Chisolm's

, new single 

"Favor"

 is now available on iTunes, Amazon, Google Play and where all music can be bought digitally. 

"Favor" is from Marica's highly anticipated sophomore album, "Worship Conversations." Purchase oniTunes. Official Soundcloud.
"Marica Chisolm is one of God's best worship leaders, She's the one to look for." – Darius Paulk, Gospel Recording Artist & Songwriter of "Nobody Greater" (Vashawn Mitchell)
Listeners should prepare for the ultimate worship experience produced through Marica's new single "Favor". It is guaranteed to build an even more anticipation for her sophomore album, "Worship Conversations," which is scheduled to release in July 2016. 

"Marica Chisolm may have been considered Atlanta's best kept secret." – Dewayne Woods, National Gospel Recording Artist, Multi-Stellar Award Winner.

Past work: Her premiere album, "Simply Worship," recorded live in Atlanta, GA, is loaded with 

Sunday

 Morning melodies that are ideal for any congregation's devotional setting. While working to complete the project, Marica solicited assistance from her industry friends and landed songs penned by EMI Gospel Recording Artist, Tasha Cobbs ("Used"), and "Hallelujah to the King," written by celebrated songwriter, Darius Paulk.
Coming Up: Her sophomore album, "Worship Conversations," also recorded LIVE in Atlanta, GA, pushes the importance of worship and communication with God. The album includes songs that will encourage listeners to speak to God in the midst of any situation. "Worship Conversations" focuses on talking about God, talking to God, and also, allowing God to speak to the listener in return.