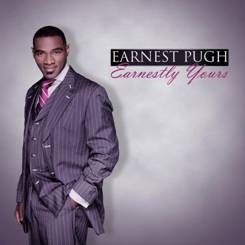 Popular gospel artist Earnest Pugh is getting quite comfortable on the Billboard charts.  Gospel's new leading man recently dropped his fourth CD, "Earnestly Yours" and the project has experienced phenomenal success with the new release topping the Billboard Top Gospel Chart. The Black Smoke Music project has been catapulted by the smash lead single, "I Need Your Glory", a riveting song delivered exquisitely by the gospel balladeer.
The single continues to glide up the Billboard Hot Gospel Songs chart and is currently at the #3 spot, its highest placement to date.  The single is also at #3 on the Media Base gospel radio airplay chart and is also one of the fastest-selling gospel digital downloads this year.  This week, the project also moves to #3 on the Billboard Top Gospel Albums Chart, secure in its Top 5 positioning.
Earnest Pugh got his start in gospel music singing with pioneer O'landa Draper in his hometown of Memphis.  After the release his 2006 debut, he caught the attention of the industry with the hit, "Wrapped Up, Tied Up, Tangled Up".  He became a household name in the genre with the 2009 release of "Rain On Us", which charted in the Top 10 as one of Billboard's Top Gospel Songs of 2010.  The gospel crooner, who now lives in the D.C. area, has appeared on BET's Celebration of Gospel and the Trinity Broadcasting Network's "Praise The Lord" program.  For more information about Earnest Pugh, log on to www.earnestpugh.com.