Facebook Fans Help Choose CD Cover for Nevels Sisters Debut Album "It's My Time" And Enter-To-Win $25 American Express Gift Card Giveaway Voting Runs Now through – June 24, 2011 Album to be Released Summer 2011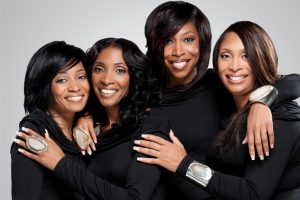 The Nevels Sisters are bursting on the gospel music scene with an exciting, contemporary sound, coined "new traditional thump." Their first CD, It's My Time, will be released this summer, and Facebook fans will have the opportunity to be a part of this exciting new musical experience by helping to choose the cover for the new recording.
Fans will be able to vote for their favorite Nevels Sisters CD cover from among 5 options on the group's Facebook Fan Page, www.facebook.com/TheNevelsSisters, by posting a comment below their favorite. Fans can also hear "Company," the group's first single on their Facebook page as well. Posting a vote for the cover automatically enters fans in a random drawing for one of 25 $25 American Express Gift Cards.
The Nevels Sisters are biological sisters: Debra, Veneice, Gail and April. They grew up in Youngstown, Ohio, where they sang in their father's Church, Nevels Temple Church of God in Christ.  As young girls they warmed the souls of his congregation, delivering their special brand of praise and worship. They eventually caught the ear of gospel music industry leader Vicki Mack Lataillade, who immediately recognized their unqiue gifts. "I was just amazed by their talent and energy," says Lataillade, who struck a deal with MoLife Entertainment to bring the Nevel Sisters under her direction at Lataillade Entertainment, LLC.
Facebook fans can vote on their favorite cover from now through Friday June 24, 2011. The album will be released summer 2011.
For more information, visit: www.theNevelsSisters.com.