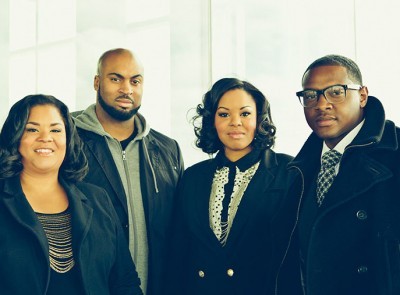 Lined with a melting pot of modern and classic designs, Boston's historical district Ashmont Hill has long earned the adulation of admirers due to its architecturally diverse makeup. Interestingly, that very same approach of embracing innovation while revering styles past has earned contemporary Christian group ASHMONT HILL – named in honor of the Bostonian community – similar acclaim. Comprised of founding member Phil Thompson, sisters April Joy Thompson and Deborah Bullock, along with Deborah's husband, Wil Bullock, the Boston-born, four member family act further cement this standard of variance via their newest album THE MAZE.
Serving as yet another showcase of the incomparable craftsmanship of the group's own singer/songwriter Phil Thompson, the 12-song project sees the group re-team with dynamic producer Zenzo Matoga for a captivating musical journey set to lead listeners to a destination of pure praise and worship.
Following the well carved path of sonic diversity set by its two predecessors, the Billboard Gospel Album chart topping albums ASHMONT HILL (2008) and YOUR MASTERPIECE (2010), THE MAZE begins with "To You" – a drum driven, up-tempo number sure to enliven and ignite a fiery praise session amongst listeners. Acting as a compass of sorts for themes that lie ahead on the project, "To You" catalyzes a worship experience that only goes uphill as it continues. But, while the quartet's Christian pop cloaked tunes take center stage, the album's guest list – though terse – still showcases welcomed passengers this praise-filled expedition.
With appearances from Stellar Award winner MICAH STAMPLEY, producer ZENZO MATOGA, and a host of talented musicians, the collaborations prove a prized feature of 'The Maze'. As do tunes like 'Fill This Temple', 'Amazing Grace', and 'If I Had Wings' as they take listeners on a melodically narrated ride to tell tales of worshippers' long for continued connection with the Lord. A theme found in abundance throughout 'The Maze' in its entirety, such feat is best highlighted in 'Love Lifted Me' – the album's lead single. The heartfelt praise anthem, with its touching lyrics and stunning vocal displays, has already lifted the group to a consecutive 18 week run in the Top 15 of Billboard's Christian Singles Charts, only intensifying the already mounting buzz of the highly anticipated project.
Set for release on August 20 on Axiom Records, 'The Maze' – though overflowing with the seamless vocal blend synonymous with the group's offerings – never sees Ashmont Hill lose sight of the album's true purpose…touching hearts and soul for the glory of Jesus Christ.