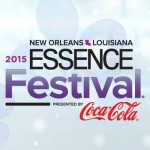 In ESSENCE's groundbreaking February 2015 'Black Lives Matter' issue, ESSENCE editors and a myriad of esteemed contributors focused attention on the daring modern-day civil rights movement unfolding across the nation and set the agenda for 'What We Must Do Now' with a bold dialogue in the pages of the magazine.  Today, Essence is announcing a slate of empowerment programming and a 'Peace, Prayer & Purpose Rally' to bring that conversation to life during the daytime Empowerment Experience at the 2015 ESSENCE Festival, July 2-5 in New Orleans.
"Communities across the country are rallying for justice, as Black Americans face systemic inequalities and troubling disparities with respect to police brutality, employment, education, earning power, health and upward socio-economic mobility," said Essence President Michelle Ebanks.  "In an effort to shed light on the issues, address the pain, explore solutions and advance the movement in these critical times, Essence is unveiling a series of powerful keynotes and in-depth conversations that will culminate in the 'Peace, Prayer & Purpose Rally'."
The ESSENCE Empowerment Experience programming will extend the conversation on race relations; addressing where we are now and where we go from here with a wide range of the nation's foremost leaders, activists and influencers—including Deepak Chopra, Rev. Al Sharpton, Steve Harvey, Iyanla Vanzant, Donna Brazile and many more.
In addition, prominent mayors, including Karen Freeman-Wilson (Gary, IN) and Mitch Landrieu (New Orleans, LA), will join a Mayor's Panel for a deep-dive conversation on the critical issues and best-practices in communities around the country; Sybrina Fulton, mother of Trayvon Martin, will deliver a keynote address entitled Moms on a Mission: Mothers Turning Tragedy Into Triumphant Change; and leading experts, including Senator Karen Carter Peterson, Dr. Steve Perry, Nicole Paultre Belland more will weigh in on the educational, policy and social issues impacting our communities for a discussion on Where Do We Go From Here: Black Lives Matter.  The Empowerment Experience Sunday Prayer Vigil and All-Star Gospel Tribute round out the weekend programs with poignant moments of reflection, rededication and inspiration.