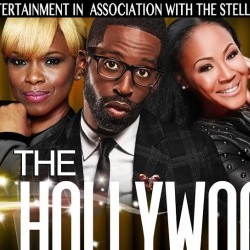 GRAMMY® and Stellar Award winning-recording artists Erica Campbell and Tye Tribbett, alongside content creators and executive producers Holly Carter (Preachers of LA/ATL/DET) and Phil Thornton (It's A Mann's World/R&B Divas) are scheduled to speak at the third installment of The Hollywood Confidential on Friday, March 27, 2015 at 12N at the Hard Rock Cafe LIVE in Las Vegas, NV @ 3771 Las Vegas Blvd S., it was announced today by Brand Maverick Entertainment's president and event creator, Steve Jones.
Presented in association with partners The Stellar Awards, the events topic will be "21st Century Gospel: Expanding Your Brand In Music, TV & Film" as the panel will focus on providing aspiring gospel artists with the tools needed to successfully thrive within the Gospel music arena.
The interactive and information based panel, sponsored by eOne Nashville, is designed to educate aspiring industry professionals on the inner workings of the industry, and is the first of its kind to be included as an officially sanctioned Stellar Awards Event. The panel discussion is from 12N to2PM.
The last installment of this series, sponsored and presented by Walgreens, and hailed as an unquestionable success, included participation from award-winning actresses Meagan Good, BRANDY, and Tichina Arnold. As well as casting giant Kimberly Hardin, responsible for discovering Halle Berry, Taraji P. Henson, Terrence Howard and more.