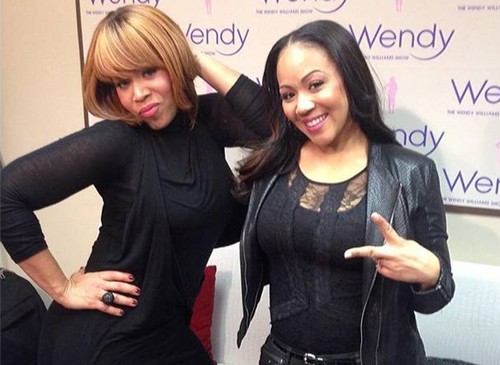 In the wake of the shocking betrayals and devastation of last season, Erica and Tina Campbell attempt to reunite and rebuild in season 4 of WE tv's MARY MARY, premiering Thursday, March 5 at 10PM ET/PT. As they forge ahead, secrets and ambitions are revealed at every turn making it difficult to move forward. With the ladies being drawn in two different directions and Mary Mary on hiatus and managerless; they must look within themselves, and each other, if there is any chance for Mary Mary to survive.
Devastated by Teddy's actions, Tina and Teddy work through the heartbreak, to reestablish their foundation with the hopes of coming out stronger as a couple with love, music and wisdom to share.
Erica's solo career has taken off and continues to thrive, however she quickly realizes that being a solo artist is more difficult than she anticipated. Without the support of the team behind the dynamic duo that is Mary Mary; she must buckle down, grab the reigns and overcome the challenges she faces with making it on her own. As Erica attempts to balance her personal life with her career, Tina is breaking out and embarking on her own solo project. However, their record label has other plans for Mary Mary and Tina's quest for artistic independence is met with resistance.
In the premiere episode, former Mary Mary manager, Mitchell Solarek, makes a surprise visit to Erica and Tina in hopes of making amends. Tina sets to forgive and move on but it's not so easy for Erica to follow suit. Mitchell fueled by his revenge against Erica and Warryn for betraying him, focuses his energy on being part of Team Tina for her solo project; causing a rift between the sisters.
As the pressure from the label begins to build, Tina attempts to take control in the absence of a manager for Mary Mary. With both sisters having aspirations of their own, and their record label hungry for a new Mary Mary album, will Tina and Erica be forced to put their solo ventures aside? Tune In Thursday, March 5 at 10PM ET/PT on WE tv.
MARY MARY is produced for WE tv by Entertainment One (eOne) and executive produced by eOne's Tara Long, John Morayniss and Eric Hoberman; Lauren P. Gellert and Kate Farrell for WE tv; and Erica Campbell and Tina Campbell.