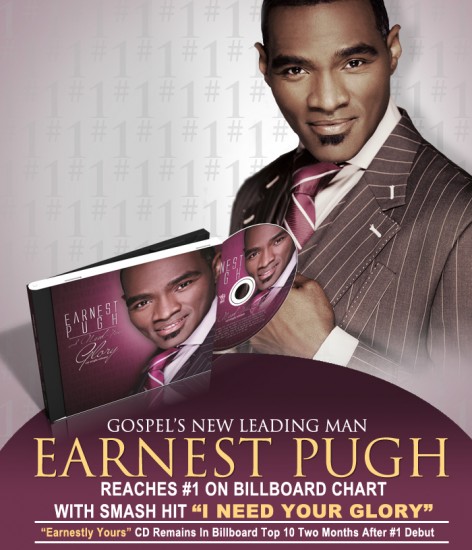 Gospel Music's Leading Man, Earnest Pugh, has topped Billboard magazine's Hot Gospel Songs chart with his smash radio single, "I Need Your Glory." New York Times pop critic Jon Carmanica writes that, "I Need Your Glory is less sensuous than the James Fortune & Fiya version of a few years ago, and deliberately so.
Mr. Pugh sounds as if he's delivering a closing argument, and he's winning the case." Pugh is also winning over fans, particularly the ladies. "It was amazing," says a female fan that rode two hours from Richmond, VA to see Pugh at a recent Washington, D.C. area concert. "I knew Earnest was popular but women were coming in packs of three and four to a car. It reminded me of my teenage years when my girlfriends and I used to pile into somebody's car to go see New Edition."
"Earning my second #1 single on Billboard is surreal to me," Pugh says. "I thank God for the overwhelming love and support from the MDs and PDs at radio stations across the country. This has all been possible because of the awesome machine behind me, Mr. Kerry Douglas and his Black Smoke Music Worldwide company. While Mr. Douglas is known for creating monster radio hits, I never imagined that the partnership with my EPM label would yield this kind of success."
Over the last two years, Douglas and Pugh's association has led to four Top 40 gospel smashes, including 2009's #1 hit "Rain On Us." Other chart hits include, "The Great I Am" and "Perfect Peace." Pugh's fourth and most recent CD, "Earnestly Yours," debuted at #1 on Billboard's Top Gospel Albums chart two months ago. "I am truly humbled by this new milestone in our history," says Black Smoke CEO Kerry Douglas whose New Deal University marketing concepts have propelled artists such as James Fortune & FIYA to gospel rock star status with #1 radio hits like "I Trust You" and "I Believe." Visit www.earnestpugh.com or www.mrkerrydouglas.com for more information on this exciting artist.