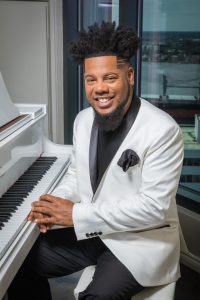 International artist Earl Bynum has recorded albums and made appearances on projects from some of Gospel and Christian music's most dynamic artists.  His OPEN MY HEART album was Stellar Award-nominated. He is the frontman, songwriter, and producer for the Stellar Award-winning album BISHOP K.W. BROWN PRESENTS THE MOUNT UNITY CHOIR LIVE.  Bynum released his album THIS SONG IS FOR YOU in partnership with Tyscot Records and used it as a catalyst in building his own Lrae Entertainment® record label.
Since launching in 2018, Lrae Entertainment has emerged as one of Gospel and Christian music's newest diverse music entities thriving in faith-based entertainment.  The Virginia-based label is the home of all new music by Earl Bynum, CCM artist Andrew Kurtz, and Gospel/CCM artist Asaun Bynum.
Contemporary Christian artist and songwriter Andrew Kurtz released his MILE AFTER MILE EP via Lrae Entertainment which yielded a radio hit "Mercy Says".  "Mercy Says" is a beautifully creative articulation of what it's like to encounter and receive the incredible message of God's mercy towards you.   Andrew's new soulful single "Baptized" released this summer, along with the "Baptized Official Music Video" he directed.
Also signed to Lrae Entertainment is Asaun Bynum, a rising artist whose smooth vocals penetrate the soul and offer a deep and intimate opportunity for worship with his singles "Amazed" and "Days of Elijah".  "Heart Cry" is Asaun's newest single released earlier this year.  "Heart Cry" is successfully rising on both Gospel and CCM radio charts.
Lrae Entertainment has partnered with Revival Music Company to promote Asaun and Andrew Christian Radio.   Bynum's single "Safe In His Arms" is also being promoted to Gospel radio by Revival Music Company.  Bynum released the emotionally reverent official music video for "Safe In His Arms" directed by Deonna Thompson, with cinematography by Samuel Jones.
In addition to being a music executive, Bynum is a highly sought-after vocal arranger, choir director, songwriter, producer, and nationally syndicated radio show host.  Lrael Entertainment is home for the production of Bynum's weekly nationally syndicated radio show On Stage With Earl Bynum with co-host Lucinda Moore.   Each Saturday, the energetic show airs at 10 AM EST in over 50 markets and is on-demand on the Rejoice Musical Soulfood Network.
To book Earl, Andrew, or Asaun for music and ministry engagements in your city and learn more about Lrae Entertainment, visit the new website www.lraeentertainment.com or email [email protected].