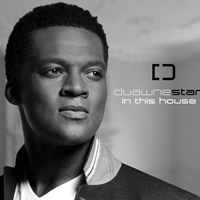 Duawne (pronounced da-juan) Starling is one of the most highly sought after and respected supporting vocalists in the music industry. Providing his impeccable tenor on projects for artists including Kirk Franklin, Donnie McClurkin, BeBe and CeCe Winans, Sandy Patti, Patti Austin, Michael McDonald and the late, great Michael Jackson, Starling has been the secret weapon on many classic albums and songs over the years. Now, Starling's vocals saturate the front mic as his new single – "In This House" – is released to radio.
An upbeat song of pure worship, "In This House" will easily become a Sunday morning mainstay. Starling's flawless voice drives home a message of joyful devotion to the Lord. The refrain alone immediately sticks in the listeners' head: "Of all the things we do/to serve and honor you/ we worship in this house/ we worship in this house…" The song grabs hold of the spirit and doesn't let go.
"Church and the worship experience has evolved over the years. It is no longer just singing and preaching, but dance, mime, and even drama ministries. I wrote, 'In This House' to celebrate all of these things, and also to remind us that worship must be the center of it all," says Starling.
Starling's music shares the triumphs and trials of his journey through life.  His simplistically profound lyrics impact audiences with their unprecedented honesty.  "My gift is God's tool.  In my writing, I always speak from the place of truth.  We are all intrinsically connected so I know that others will relate to what I've experienced.  My purpose is to enlighten, encourage and empower the listener."
His journey began in Petersburg, Virginia where Starling lived until attending boarding school at age 13.  "My father was a singer and died of cancer when I was seven. It was then that music became my sanctum; my escape from that reality.  Now, it's simply my passion."
"In This House" is the lead single off of Duawne Starling's upcoming album "Deeper Faith", which will be released in the fall on his own imprint, About Faith Media, and distributed by New Day Christian Distributors.