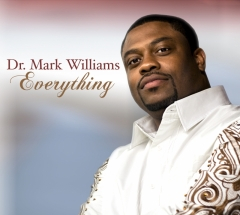 Dr. Mark Williams, also known as "The Voice Doctor" is currently traveling across the country promoting his new CD release EVERYTHING. His unique combination of delivering Music, Medicine and Ministry is capturing the attention of the Christian music community.
Dr. Williams recently made his way to Detroit and had the opportunity to minister in song on The Word Network's "Rejoice In The Word" with host Bishop George Bloomer. Dr. Williams shared the musical spotlight with the legendary Rance Allen Singers. Dr. Williams also stopped in to chat about his project with Deborah Smith-Pollard at WJLB Radio and Pastor Marvin Winans at WMXD Radio then on to Perfecting Church as musical guest of Pastor Winans.
New single and title cut "Everything", is a jazz infused ballad with soothing vocals reminiscent of Will Downing which made its debut on Detroit radio stations this week and will impact national radio in August. EVERYTHING, which is in stores and online now, was produced by Roger Ryan and Daniel Weatherspoon with the penmanship of Dr. Williams. This project has captured the essence of pure worship that is engaging audiences in a powerful musical experience via soulful ballads and infectious praise songs.
"Mark Williams is in my opinion one of this generation's BEST KEPT SECRETS! The most exciting part about this season of his life, is that ALL MANKIND will NOW witness the manifest power of God that flows through his music and worship!" Elder Darwin Hobbs – Worship Pastor, Hopewell Baptist Church, Norcross, Georgia.
Continuing in his busy tour schedule, Dr. Mark will be conducting a Seminar "Your Voice – God's Instrument" August 14-18 at the Gospel Music Workshop of America National Convention in Tampa, FL. He will also be the Keynote Speaker at the GMWA Faculty Banquet. Convention registrants will have the opportunity to meet Dr. Mark and experience vocal care education up close at The Voice Care Center of Nashville's Interactive Booth in the GMWA Exhibitors Hall. Dr. Williams educates singers, preachers and speakers on proper vocal technique and voice hygiene to help prevent voice problems and ultimately enhance the worship experience.