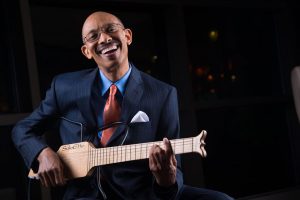 Dr. Leonard S. Scott is a true pioneer in the gospel music world. He was one of the first recording artists to introduce praise and worship music into the black church community with signature songs such as "Lord, You Reign" and "The Pentecostal Praise Medley." He's also the co-founder of Tyscot Records, the oldest operating African-American gospel recording label in the world. Now, the Stellar Awards Gospel Music Academy has announced that Dr. Scott will be inducted into the Stellar Hall of Fame during the 32nd annual Stellar Gospel Music Awards that takes place Saturday, March 25, 2017 at The Orleans Arena in Las Vegas, NV.
The big news has Dr. Scott feeling good as his latest radio single, "Feel Good" from the album "Feel Good: Celebrating 40 Years of Life Changing Music" (Tyscot), would indicate. "It is a great honor to be recognized by Don Jackson and the Stellar Awards for our accomplishments at Tyscot Music & Entertainment," he says. "It is because of the faithfulness of our God and the diligence of our artists, label partners, industry affiliates and team that we have not only survived, but thrived through the past 40 years in what is often a very volatile enterprise. It is humbling to be able to promote a product that has potential to change lives for eternity's sake. To be honored by the prestigious Stellar Awards only serves to increase our gratefulness. "
Tyscot Records put legendary recording artists such as John P. Kee, Vashawn Mitchell and Deitrick Haddon on the musical map in the 1990s. It continues to produce brilliant new music by talents such as the iconic Rance Allen group, as well as, No. 1 best selling acts Casey J, Bri (Briana Babineaux) and Anthony Brown & group therAPy. The 2017 release schedule features dynamic albums by newcomers such as singing-guitarist C West, vocal dynamo Kelontae Gavin and BET Sunday Best finalist, Durward Davis. There are also forthcoming projects from Caribbean worship leader Sherwin Gardner, Ruth La'Ontra, Grammy® Award nominated singer-songwriter Cheryl Fortune and the highly anticipated third album by Anthony Brown & group therAPy.