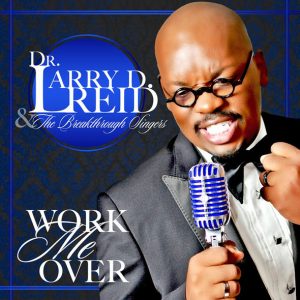 Dr. Larry D. Reid & The Breakthrough Singers are gearing up to release their debut album WORK ME OVER dropping early summer.
"I am so excited about this project. I believe many lives will be touched by the message and the unique sound of this CD. Our motive behind the music is to bring souls to Christ, and remind those that know Him that not only can He work them over, but He can make their lives better than ever," says Dr. Larry D. Reid.
Busting through the Gospel music world with the lead single, a high energy, hand-clapping, upbeat track entitled "Better Than Ever" is climbing the charts of Gospel radio. Already in the Top 40's, this song is poised to become a Gospel monster hit!
WORK ME OVER is one of the most anticipated CD releases of this year. Dr. Larry D. Reid & The Breakthrough Singers are poised to become one of Gospel music's leading voices after the likes of Kurt Carr & The Kurt Carr Singers, Walter Hawkins & The Hawkins Family, and Andrae Crouch & The Disciples. Dr. Reid & TBS are infusing biblical scripture and philosophy through lush musical arrangements, filled with great energy and the anointing! "We pray that people are moved in their spirits and not just by the sound of the music, but that the message goes deep in their heart."-Dr. Reid humbly expresses.
Dr. Reid is also a Pastor and an Author. Dr. Larry D. Reid Ministries is impacting lives through audio teachings, books, and music – reaching people all of over the world. Follow Dr. Larry D. Reid on your favorite social networking community!