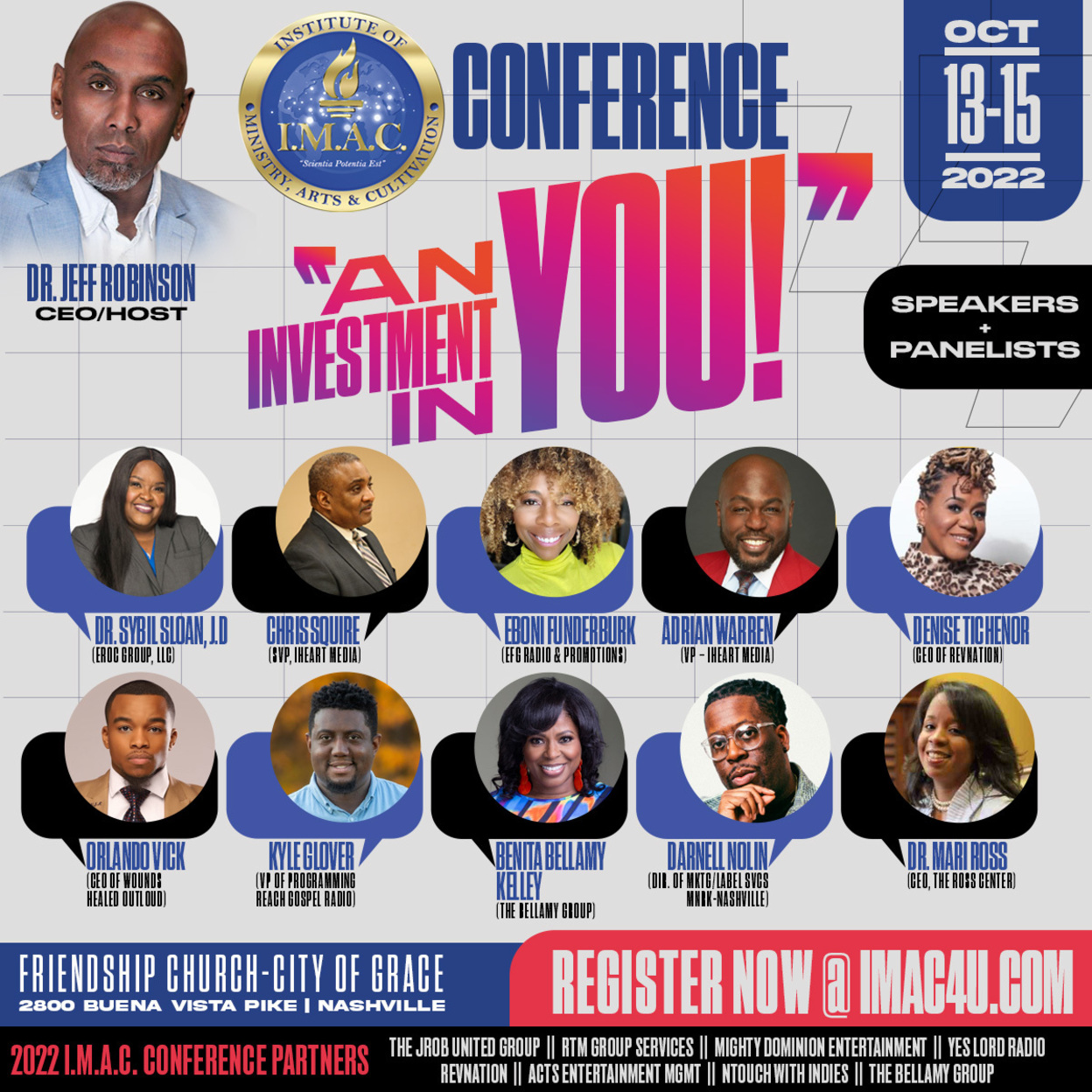 Founded by Dr. Jeff Robinson in 1999, The Institute for Ministry, Arts & Cultivation (I.M.A.C.) is a faith-based institution that provides a platform for spiritual, artistic, and personal development through education, exhibition, and inspiration.  Over the past  twenty-three years, I.M.A.C.has become a trusted and leading education and promotional resource for faith-based organizations, creatives, ministries, and artists.  After being on hiatus for over five years, I.M.A.C. returns for its biggest three-day conference on October 13-15 in Nashville, TN.
Considering the continual shifts and changes in the music industry and the global pandemic, Dr. Robinson took time to recalibrate, refocus and get 100% clarity on the full impact and purpose of the I.M.A.C. direction and brand.  He celebrates the return of I.M.A.C. with a "Homecoming" theme this year.
Dr. Robinson has assembled a collective of masterminds as conference speakers.  Some of the nation's top Gospel and Christian music executives and ministry leaders are on tap to present  thought-provoking and educational sessions.  Mastermind presenters include Adrian Warren – iHeart Media VP of Sales, Benita Bellamy Kelley – CEO of The Bellamy Group, Kyle Glover – VP of Programming at Reach Gospel Radio, Orlando Vick – CEO of Wounds Healed Outloud, Dr. Sybil Sloan, J.D. of Eroc Group, LLC, Chris Squire – Senior VP of iHeart Media, Eboni Funderburk of EFG Radio & Promotions, Darnell Nolin – Director of Marketing & Label Services at MNRK Nashville, Dr. Mari Ross – CEO of The Ross Center and Denise Tichenor – CEO of RevNation.
There will be an "Industry Think Tank – Lunch and Learn" on Friday, October 14, at the famous Nashville Restaurant Monell's At The Manor.  Class and session topics for Saturday, October 15, include "Mental Health Tools for Ministry Leaders," "The Anatomy of a Brand," "How Can I Get My Music Played," and more.  To register and get the full schedule, click here.
I.M.A.C. discovers new talent and features the brightest singers and musicians in CHH, Traditional, Quartet, Worship, and Contemporary Gospel music.  Attendees will be treated to "The Center Stage With I.M.A.C." special performances by powerhouse singer Jershika Maple (The Voice), soulful crooner Wess Morgan, and Stellar Award-winning Urban Gospel artist Amethyst.  Three nights of exciting concerts will also feature Kelonte Gavin, E. Dewey Smith, Anthony Ponder & Ministry's Desire, Danielle Sunny Bryant, William Demps, Chris Wesley and Undignified Prase, and more.
I.M.A.C. Conference will be held at the Friendship Church City of Grace, 2800 Buena Vista Pike, Nashville, TN.  To register, click here.