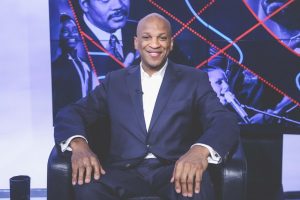 Pastor, singer, songwriter Donnie McClurkin recently stopped by Black America TV to talk faith, family and community with Emmy award winning  
New York City journalist/host, Carol Jenkins.  McClurkin's engaging interview will start airing Wednesday, February 15 at 7:30am, 1:30 and 8:00pm
on WNYE/Ch. 25. 
Black America features in-depth conversations that explores what it means to be Black in America. The show profiles Black activists, academics, business leaders, sports figures, elected officials, artists and writers to gauge this experience in a time of both turbulence and breakthroughs. 
Independent New York television station CUNY TV has been educating and informing city viewers for three decades. The largest university television station in the country, its cable distribution in the city's five boroughs is enhanced by digital broadcast on Channel 25.3, expanding its reach in the tri-state area to a 35-mile radius from Times Square.
McClurkin's guest appearance will be broadcast multiple times throughout Black History Month.  Additional air dates and times are listed below:
Having Faith with Pastor Donnie McClurkin
Wednesday, February 15 – 

7:30am

, 

1:30pm

, 

8:00pm

Thursday, February 16

– 

2:30am

Saturday, February 18

– 

10:30am

, 

6:00pm

Sunday, February 19

– 

11:30pm

Tuesday, February 21

– 

11:30pm
About Black America TV
CUNY TV is a professional commercial free station  that reaches 7.3 million households in the New York metro area via over-the-air broadcast and cable, and its original programming is archived online for a global audience.