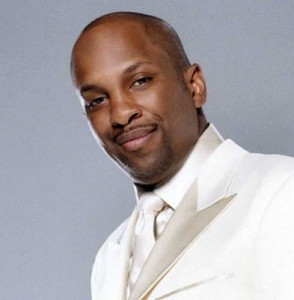 Los Angeles, CA — After launching Perfecting Music Conference in 2010 and taking it on the road Donnie McClurkin will bring the three day event home to Long Island , NY and merge it with the annual New York Call gathering August 25-27. The New York Call mission is to break down cultural, racial and denominational barriers through continual fellowship and to make an impact spiritually, socially and politically through UNITY www.nycall.org .This year education and empowerment will be added to the movement with workshops along with job/career and wellness fairs.
On Thursday, August 25 the activities start with a free multicultural Job/Career Fair at the Best Western Hotel at 173 Sunrise Highway, Rockville Centre, NY 11570. The day will include career counseling, resume building, tips on successful interviewing, free-training classes, with hiring opportunities for permanent and, temporary jobs.  Local residents can listen out for more details on WBLS (1190AM) and WLIB (107.5FM).  Check out the link of PMC news clip from  previous Job Fair:  http://www.fox6now.com/news/witi-20110519-job-fair,0,5009131.story .
On Friday, August 26 Perfecting Faith Church at 311 Main Street, Freeport, NY 11520 will host a day of workshops for those interested in pursuing a career in the music industry or simply learning the business, as well as a ministry track for the edification and training in the local church. The workshops and panels will be conducted by some of the top names in the gospel music industry along with local pastors, leaders and ministers such as Verity Records executives: Jazzy Jordan, Joseph Burney, Cheryl Marks, Jeff Grant, Toya Beasley (KISS FM), Kerry Douglas and others. The goal of PMC is to expand the role of ministry in the music industry and to serve as a platform for the advancement of artists, musicians, and ministry leaders.  Workshop Titles: Evangelism, Music/Arts Dept., Church Administration, Praise and Worship and Liturgical Dance; while the business sessions will cover Radio Seminar, Marketing Branding, Record Deals, Recording 101 and Developing a Label.  The $40 Registration fee includes lunch and a special gift bag; $25 registration fee for workshops only and a $20 fee for youth.
"It's time to realize that our diversities should not separate us.  "I'm extremely excited about bringing this three-day event to the New York area.  The New York Call, workshops, job and health fair all are designed to empower the people and give them hope for tomorrow.  I want this display of unity to show the true love of God and true love of man," says McClurkin.
On the last day Saturday, August 27 all the action moves to Eisenhower Park in Nassau County where thousands will gather for the 8th Annual New York Call.  Sponsors Boston Scientific/Close the Gap will partner with NYC/PMC to present a free Multicultural Health & Wellness Fair. Awareness booths and free health screening opportunities are being held 11:00am -3:00pm. Information on nutrition, private healthcare and insurance, substance abuse, dental/mental health, hypertension, diabetes, women and men's health, HIV-Aids Testing and vision will be provided.  Also available screening for blood glucose and blood pressure, acupuncture, self-defense training, HIV Testing, BMI, traditional healing, stress management and aerobic exercise, healthy food, games and prizes will also offered. The main stage event is hosted from 3pm -8pm and will feature speakers and special music guests.
Lending their name power and brand to Perfecting Music Conference and NY Call  are sponsors such as: Urban Ministries Inc., Subway Eat Fresh, Boston Scientific/Close The Gap, Prudential, Amtrak, AARP, WBLS/WLIB, The Word Network, Golden Krust Caribbean Bakery and others.  After New York, the Perfecting Music Conference will make stops in Philadelphia, Dallas and Miami to round off the year.
For additional information on the music and ministry conference can be found on-line at http://www.perfectingmusicconference.com/ and fans can check out www.donnieradio.com for local listings and airs times for the Donnie McClurkin Show radio broadcast.