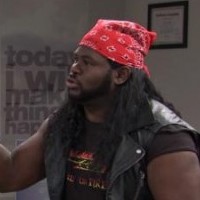 In this week's episode of Bounce TV original sitcom MANN & WIFE,  starring David and Tamela Mann and premiering Tuesday, April 21 at 9 p.m. ET/8 p.m. CT, the Mann family keeps viewers in stitches as they grapple with parental and professional challenges. Demetria McKinney (RHOA) guest stars as Lisa Lovejoy.
Daniel and Michael stumble into a series of mishaps on the job, including tackling an innocent bystander while chasing a suspect. Reprimanded by their Lieutenant, they are sent to couples communication therapy to improve their partnership and save their badges. While there, Michael and Daniel react badly to being mistaken for a couple in a relationship and get into even more trouble at work.
Meanwhile, Toni's hands are full with an uprising at home among the kids when they are given different chores and privileges based on age and gender, such as dishes and laundry for the girls and lawn work and garbage for the boys. Matters escalate when Lorraine plants the seed of unrest by sharing stories from her time as a civil rights activist. Inspired by Lorraine's fortitude the kids go on strike.
MANN & WIFE's debut episode became the network's most-watched original to date, reaching nearly 800,000 viewers on premiere night.  The 9 p.m.telecast was also the third most-watched program in total African-American viewers among all ad-supported cable television in the time period.