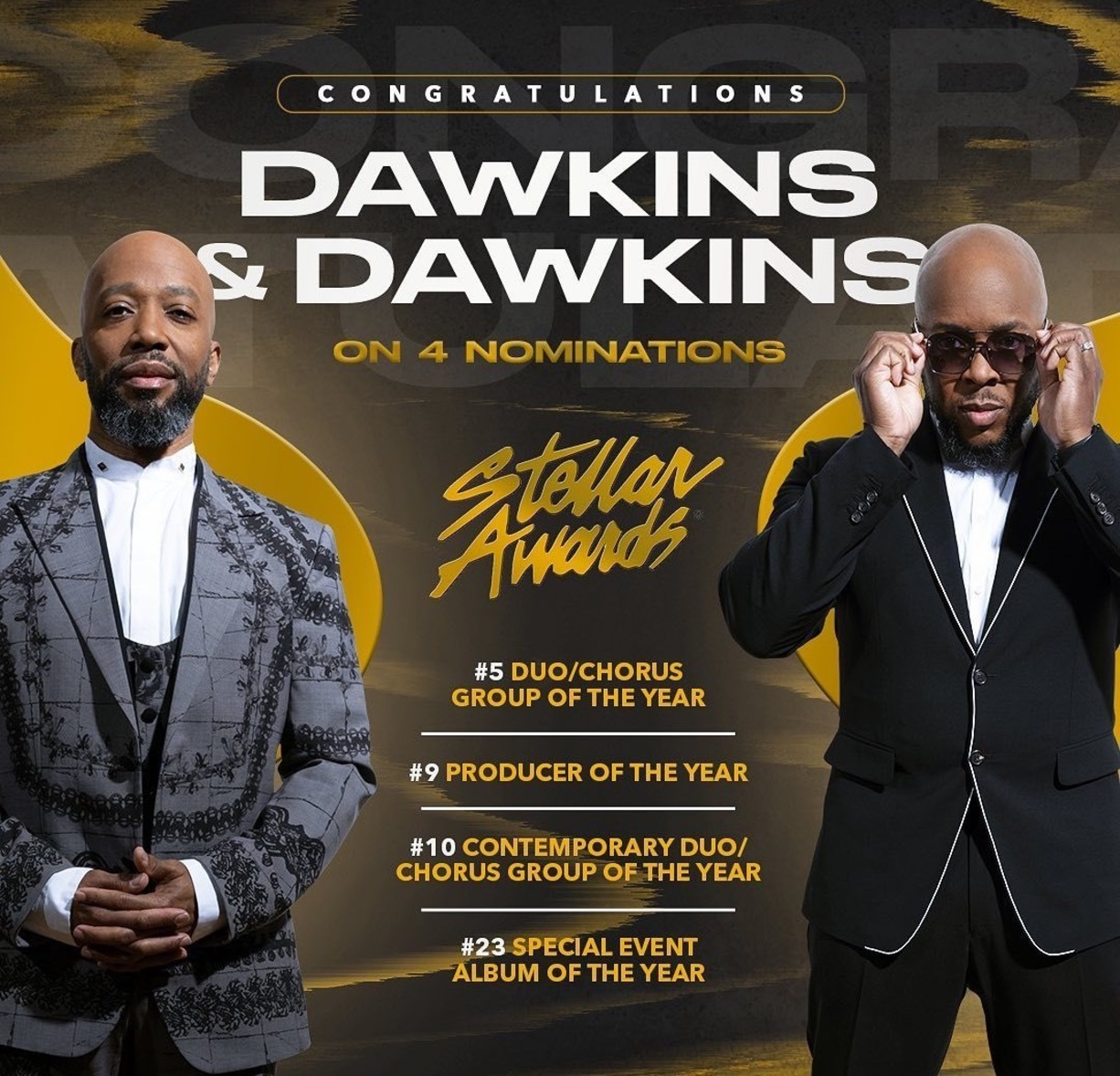 Anson Dawkins and Eric Dawkins are songwriters, producers, musicians, and vocal arrangers who have contributed to an unprecedented list of platinum-selling, award-winning artists including Commissioned, Mary Mary, Tyrese, Quincy Jones, Mary J. Blige, CeCe Winans, Christina Aguilera, Chris Brown, Tamela Mann, Toni Braxton and many more.  As the super duo group Dawkins & Dawkins, they are Dove Award and Stellar Award-nominated artists known for their timeless FROM NOW ON album and "Need To Know" and "Wrapped Up" hit singles.
After a 10-year hiatus of releasing their music, the brothers returned in 2021 with an epic series of EP's called NEVER GETS OLD Vol. 1 & 2 and NEVER GETS OLD HOLIDAY.   Vol 1: LOVE & LIGHT features the hit and YouTube video hit "In My Feelings".  Vol 2: FAITH & FAVOR features their newest hit, "Come By Here".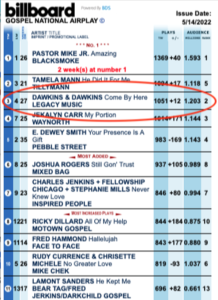 "Come By Here" is now #1 on the Mediabase Gospel Radio Chart, has risen to #3 on the Billboard/BDS National Radio Airplay Chart and is #1 on the Gospel Indicator Chart.
Radio promotions director Greg "Uncle G" Lyons says, "It's a pleasure working with Dawkins & Dawkins, and I'm thrilled to be a part of the team and their first #1 radio accomplishment.  I'm looking forward to bigger and better for Anson and Eric and honored to be taking this journey with them."
Dawkins & Dawkins are also adding four more music award nominations to their resumé.  Anson and Eric have snagged 2022 Stellar Gospel Music Award nominations for Duo/Chorus Group of the Year, Producer of The Year, Contemporary Duo/Chorus Group of the Year and Special Event Album of the Year.
"It's exciting to be nominated in four Stellar Award categories," says Anson.  "We've had a song in the top 5 on Gospel radio for a few weeks and now #1 on Mediabase.  We are on a promotional tour now and are grateful for the amazing people working behind the scenes to make it all happen."  He continues,  "We are fortunate to have people who enjoy our music and are willing to show it by streaming, purchasing, and voting for us.  But ultimately, God gets all the credit!"
"What can I say about the Stellars…? It's the biggest night in Gospel music, and we're up for multiple awards, so I'm grateful," Eric expresses.  "We've never graced the Stellar stage, but we'll proudly wear the nomination badge whatever happens that night.  It's always humbling to have the support of our peers and fans, showing us that they validate and love what we do. We're honored to be in the number."
Dawkins & Dawkins will be at the Stellar Awards in Atlanta, GA July 15-16.  Visit TheStellarAwards.com for more information.  Fans can see Dawkins & Dawkins on "The Road To Rososevelt Tour" May 20 in Atlanta, May 27 in New Orleans, and May 29 in Houston.  To register for the FREE concert, visit Eventbrite.
Connect with Dawkins & Dawkins on Instagram @RealDawkinsandDawkins or Facebook @DawkinsAndDawkins. Their NEVER GETS OLD series of albums is music for you to add to your summer playlist.  Jam to it, worship to it, and bet it "Never Gets Old".