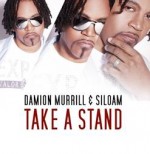 GRAMMY Award Nominee Damion Murrill believes in the power of prayer.  The title tune to his upcoming CD, Take A Stand, focuses on just that.  Recounting the popular Bible verse, 2nd Chronicles 7:14 (If my people, who are called by my name, will humble themselves and pray and seek my face and turn from their wicked ways, then I will hear from heaven, and I will forgive their sin and will heal their land.), the tune is a call for our country to go back to its spiritual roots.  Murrill believes one of the ways to do that is through prayer.  To commemorate the National Day of Prayer and the June 9threlease of Take A Stand, he is encouraging believers to commit to praying daily for one issue or situation that's impacting their communities and to "take a stand on their knees" between Thursday, May 7th and Tuesday, June 9th.
Damion Murrill is asking Christians to commit to 5 minutes of prayer a day and post a video to his Facebook, Twitter and Instagram pages sharing their concerns and what they are petitioning God to do for them.  "I believe that challenges of our communities can be fixed with prayer," shares Murrill.  "We are seeing tragedies happen every day.  Whether it's in cities here in the United States like Baltimore or overseas with Christians losing their lives or earthquakes in places like Nepal, we need God.  We need Him to intervene in our daily lives.  I believe change will come if we all pray," shares Murrill.
Recently tapped to perform at the White House Prayer Event on the Ellipse near the White House grounds on May 2nd, Murrill and his Gospel ensemble Siloam debuted "Take A Stand" at the Washington, DC festival.  The song is just one of the many inspirational cuts on the forthcoming project.  The track that's soaring up the charts is the soulful single, "Don't Let Me Fall", which recently broke the Top 100 on the Billboard Top Gospel Songs Chart.
Groomed by the best, Damion Murrill is the protégé of multiple award-winning producer, songwriter and choir director Donald Lawrence.  Damion rose to fame as part of his family group, The Murrills.  The ensemble was known for backing Lawrence as part of the Tri-City Singers and for their Billboard-charting hits and GRAMMY and Stellar Award Nominations.  Now the Divinity Music Group recording artist steps out from the family group and delivers a brand new sound of Gospel music.  For more information on Damion Murrill, visit www.DamionMurrill.com.  Connect with Damion Murrill & Siloam on Facebook and Twitter (@DMandSiloam).