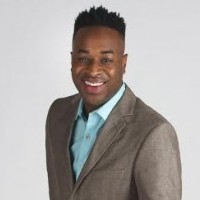 Conductor, pianist, producer and multi-genre recording artist Damien Sneed inks worldwide distribution deal with Central South of Nashville, TN. Sneed, the co-founder of LeChateau Earl Records will release the double disc project, Broken To Minister: The Deluxe Edition on March 3. This release marks the first of a series of releases by Sneed and label co-founder, Bishop Iona Locke. The Sphinx Medal of Excellence recipient says, "I am thrilled and honored to be part of the Central South family. It's an opportunity for us to share our music and ministry to a global audience. On behalf of Bishop Locke and the artists of LeChateau Earl Records, we would like to thank Vicki Lataillade, Gwendolyn Quinn, Chuck Adams and Roderick Jemison for providing this new platform and moving us forward."
Broken To Minister: The Deluxe Edition is an extension of Sneed's 2013 inaugural gospel EP, Broken To Minister, which also featured the debut of Sneed's gospel ensemble, The Levites. The project also features 15 new songs (20 tracks on the project) including the hit singles, "Broken to Minister" and "Call Him By His Name."  The new single, "Forever," is an up-tempo praise and worship song written by Jason Michael Webb, associate musical conductor for the Tony Award-winning Broadway production Motown The Musical. "Forever" declares that God's name is to be praised for His goodness and that His mercy will endure forever.
On Tuesday, February 3 at 9:00 p.m. EST, Sneed will star in the new PBS documentary, Everyone Has a Place by Dennis Scholl of the Knight Foundation and Marlon Johnson, a six-time Emmy award-winning producer and director. The film captures his journey as the musical conductor of last year's historic performance of the Abyssinian Mass by Wynton Marsalis. The film features the world-renowned Jazz at Lincoln Center Orchestra and Sneed's 70-piece Chorale LeChateau.The documentary was filmed at Charlotte's Friendship Missionary Baptist Church during the 16-city national tour. Everyone Has A Place will premiere on Charlotte's PBS station WTVI with subsequent airings on Thursday, February 5, at 12:30 a.m. EST; Monday, February 9, at 11:30 p.m. EST; and Friday, February 20, at 11:30 p.m. EST. The film will air in other PBS markets across country, dates to be announced in the coming weeks.
On April 26, Sneed will make his Carnegie Hall conducting debut for Marsalis' "Abyssinian 200: A Celebration" on the legendary Ronald O. Perelman Stage. The new offering features WorldStrides' Heritage Performance National Jazz Choir accompanied by the Jazz at Lincoln Center Youth Orchestra. Participants are selected through a formal application process and invited to experience an opportunity of a lifetime.
Over the years, Marsalis has been a mentor and champion for Sneed's varied music endeavors. Marsalis is the Managing and Artistic Director of Jazz at Lincoln Center and has previously stated, "Damien is an unbelievable conductor, choirmaster and piano soloist. I have never seen anyone like him. He has such a depth of knowledge of music, and he's innovative in his ways."
Sneed has worked with the Jazz at Lincoln Center Orchestra with Marsalis since Sneed's conducting debut at Jazz at Lincoln Center in April 2008. "It has been an honor and privilege to work with Wynton Marsalis and the esteemed Jazz at Lincoln Center organization," says Sneed. "They have assisted in elevating my career to new heights. And exactly seven years later in April 2015, I will make my Carnegie Hall conducting debut. This is truly a blessing."
In celebration of Sneed's album, Broken to Minister: The Deluxe Edition, he will participate in a series of concerts and promotional opportunities including events surrounding the 2015 Stellar Gospel Music Awards 30th Anniversary, the Museum of Modern Art (MoMA), Lincoln Center's Avery Fisher Hall, Opera Philadelphia at Union Baptist Church, Ginny's Supper Club at Harlem's Red Rooster's restaurant, as well as a variety of radio and press events.