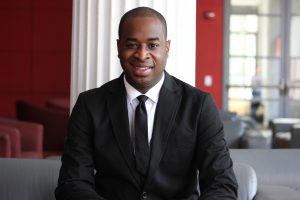 Conductor, pianist, producer and recording artist Damien L. Sneed will join faculty and alumni of Howard University's Department of Music to celebrate the career of Professor Raymond Jackson. The event will be held on Tuesday, April 22 at 2:00 p.m. in the Recital Hall (#3001) of  Howard University's Fine Arts Building, located at 2455 Sixth Street, NW.
Sneed will perform a classical solo piece on piano.  "Professor Raymond Johnson has been very instrumental in my development as a musician and artist," says Sneed. "He has been a dedicated mentor and has contributed to my career significantly. I learned a great deal under his tutelage and I am profoundly grateful for all he has taught me."
On Friday, April 25, at 2:00 p.m., Sneed, along with classical recording artist Lawrence Brownlee will participate in a signing event for their CD, Spiritual Sketches, at the Metropolitan Opera Bookstore at Lincoln Center in New York City. Sneed has collaborated with Brownlee, a rising international opera star for live performances and recordings. At his recital debut at Carnegie Hall, Brownlee performed spirituals arranged by Sneed. In March and April of 2013, Sneed was featured with Brownlee in several recitals of arias, art songs and spirituals at venues around the country, including the Cincinnati College Conservatory in Ohio and the Asheville Opera in North Carolina.
In January, 2014, Sneed and Brownlee were featured in the Allen Room for Lincoln Center's American Songbook, where they performed music from their project, Spiritual Sketches, which was produced by Sneed and released by his independent label, LeChateau Earl Records. The New York Times' film and music critic, Stephen Holden, lauded Sneed and Brownlee for their resounding performance, writing that Sneed's fresh arrangements turned the traditional gospel tunes into "concert art songs."