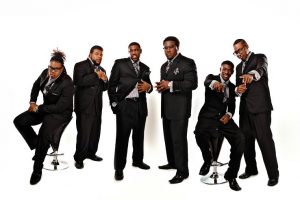 Da Chozen Brothaz was formed in Clarksville, TN after brothers Isaac "Bam" Richardson (percussionist) and Michael Turange (lead singer) began holding jam sessions at a local studio. Soon after, the group leaped onto the Quartet scene's main stage as an opening act for a concert featuring Keith "Wonder Boy" Johnson, The Spiritual Voices and The Legendary Pilgrim Jubilees.  Their fresh approach to quartet music, which they call "quartetemporary", was a hit with the crowd and, soon after, they began performing together and eventually recorded their album The D.C.B Xperience.
"Da Chozen Brothaz are a group of young men who want to reach the world for Christ and want to keep the Quartet sound alive for the genre's fans and, hopefully, introduce the Quartet sound to new fans of Gospel music as well," says group co-founder Isaac Richardson.
This April Da Chozen Brothaz celebrates its five year anniversary with an exciting concert at Cathedral of Praise COGIC in Nashville, Tennessee. They will be joined by musical friends Darrel Petties & Take Two and Darrell McFadden & The Disciples for an evening of shout-worthy Gospel music.
Da Chozen Brothaz recently signed a deal with Bishop Jerry Maynard's Jelama Records, and will record a new album later this year.
Their debut album, The D.C.B. Xperience is currently available on digital outlets including CD Baby and Amazon.com. The D.C.B. Xperience features guest vocals from a handful of artists, including Zacardi Cortez, and flaunts the effortless harmonies and powerful musical arrangements Da Chozen Brothaz are becoming known for as they tour throughout the South.