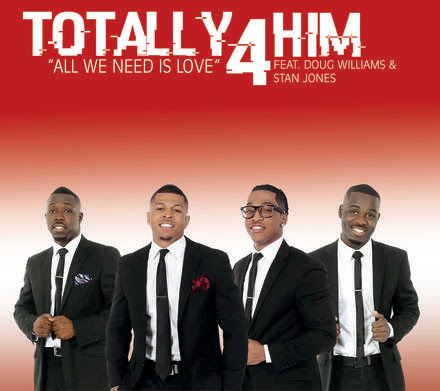 Totally 4 Him is an upcoming contemporary quartet group of four dynamic and dedicated young men of God.  The talented young men formed their group and bond in music ministry in 2008 after singing together in church. Carlos Harvey and Michael Harvey Jr (Turk) – who are biological brothers, and Dante Eady and Jesse Eady – who are also biological brothers make up this soul-stirring Georgia based singing group Totally 4 Him (T4H).
Although classified as a "Quartet" group, the fellas have a fresh and contemporary swag in their singing style and their fashionable attire.  T4H has a love and respect for the traditional quartet genre, but are on a mission to bring a new and innovative approach to quartet music so that a younger demographic will embrace and become fans of the beloved style of gospel.
Totally 4 Him started traveling and singing around the country and abroad with their spiritual father, Bishop William Hollis, and the likes of Lee Williams & the Spiritual QC's, Canton Spirituals, The Gospel 4, the late Tommy Ellison, Doc McKenzie and the Hi-Lites, and many more.
Their national debut Gospel radio single "All We Need Is Love", featuring Gospel great Doug Williams and award winning producer Stan Jones is now available and impacting radio. "All We Need Is Love" contains their unique blend of traditional quartet and contemporary gospel in which T4H likes to call "Quartemporary".