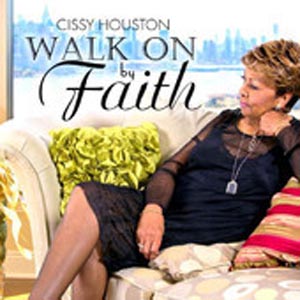 Cissy Houston, mother of Whitney Houston, has released a new Gospel EP on iTunes via Harlem Records. This is Cissy's first time releasing new music since He Leadeth Me in 1997. The EP, Walk On By Faith, features four songs, "The House", "Walk On By Faith", "It's In My Heart" and "Living Shall Not Be In Vain".  Harlem Records rep Bill Coyle said Houston started working on the EP last year and musically arranged all four tracks.
Houston's singing career began in 1938 when she joined her sister Anne and brothers Larry and Nicky in the gospel singing group the Drinkard Four. Lee ,mother of singers Dee Dee and Dionne Warwick, later joined the group along with Ann Moss and Marie Epps. The group was then renamed The Drinkard Singers. Houston and The Drinkard Singers regularly performed at New Hope Baptist Church and later recorded a live album for RCA called A Joyful Noise.
During the mid-1960s, the Houston provided backup vocals for a variety of artists, including Otis Redding, Wilson Pickett, Lou Rawls, The Drifters, Dusty Springfield and her niece, Dionne Warwick. She appeared on Van Morrison's single "Brown Eyed Girl". Houston also performed the operatic soprano melody on the Aretha Franklin's hit," Ain't No Way".
In 1996 Houston received the Grammy Award for Best Traditional Soul Gospel Album for Face to Face, an album that contained a Gospel version of "How Sweet It Is (To Be Loved by You)". In 1996 she also contributed one song to the gospel soundtrack album for the film, The Preacher's Wife, which starred her daughter Whitney Houston. In 1998 she won her second Grammy for her album He Leadeth Me.