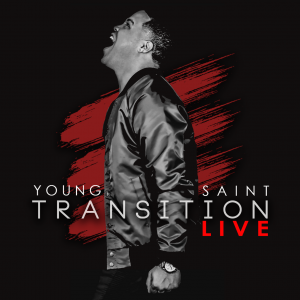 Released November 3rd, the 11-track project is produced by Ahmod Goins (Mod-G) and Chris Adams and features the lead single "Hold Me Together" featuring singer/songwriter Chandler Moore, which is gaining traction on Nielsen's BDS
Gospel Indicator Most Added chart.
The Fayetteville, NC native was taught at a very young age to trust in God, but throughout his life journey, strayed away from those teachings. With a strong Christian foundation, and through the art form of music, Young Saint rededicated his life's purpose back to God.
Young Saint strives to resonate with the mind and hearts of his listeners. Today's music portrays to our younger generation that money, cars and clothes are the indicators of success. This is publicly expressed through explicit lyrics and degrading acts towards women. He vows to take the world's negative concepts and turn them around. Through his music, he uplifts and inspires all, young and old. With each song, there is lyrical content broken down so that the young can understand and partake, but meaty enough for "seasoned" listener to take away something as well. His vision is bigger than just Gospel Rap, but to help equip his listeners with tools to push towards the mark. His desire is to challenge people to look inward to begin the process of change.
Young Saint released two prior projects in his career with his debut project Favor Ain't Fair in 2014 and Transition in 2016. He is a nominee for several awards this year including a Kingdom Image Award, Voice of Gospel Music Award, an Independent Gospel Artist Radio Alliance Award, and a Gospel Blue M.I.C. In 2014, he won both the Rhythm of Gospel Award and Gospel Blue MIC for Christian Hip Hop Artist of the Year among many more awards.